Taka Higashino wins Red Bull
X FIGHTERS in Osaka/Japan
Pictures: Winter, Halayko, Vuckovic and Marko
Hometown hero Taka Higashino of Japan won the first Red Bull X-Fighters event of his career, upsetting World Tour leader Tom Pages of France in a thrilling final in front of Osaka Castle watched by 11,000 fans and a global television audience as the world's most prestigious freestyle motorcross series made its eagerly awaited debut in East Asia.

Click Image to zoom
Japan's Taka Higashino pulled off a spectacular upset victory over Tom Pages at the Red Bull X-Fighters first-ever stop in Japan, giving his home country a fascinating first taste of FMX with an unlikely win against the Frenchman and his big bag of tricks. American Adam Jones took third place in Osaka. The fourth stop of the six-round 2013 Red Bull X-Fighters World Tour that has now produced four winners in four races. Pages still leads the overall Red Bull X-Fighters World Tour heading to the next stop in Madrid next month.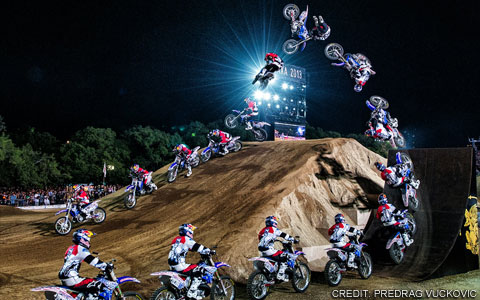 Click image to zoom
On an evening that put a spotlight on Japanese traditions, Higashino had the excited crowd behind him every jump of the way through the quarter-finals to the semi-finals and into the final against Pages. After dominating the Qualifying on Friday, the Frenchman was the hot favorite to win the main event, where the riders leaped up to 30 meters in distance and 15 meters high while performing gravity-defying tricks. But the 28-year-old Japanese ace had the run of his life. Higashino grew up just 15 minutes away from the breathtaking venue next to the majestic Osaka Castle in the Nishinomaru Garden. He left his hometown of Osaka seven years ago for the FMX hotbed of California. He became an instant legend in Japan on Saturday.
"I can't believe it," Higashino said after winning the nail-biting final against Pages by a score of 3-2 that was also watched by Osaka Mayor Toru Hashimoto and other local leaders. "Tom and I had a great final. I didn't think that I had won. It is an honor win here." Pages had another spectacular run and won the Swatch Best Move award for his crowd-pleasing Double Nac Indian Whip. He also aced the Flair, the Volt and the Special Flip. It was a disappointing night for defending World Tour champion Levi Sherwood of New Zealand and 2011 champion Dany Torres of Spain – both were unceremoniously eliminated in the quarter-finals. "I can't do much more than that," said Pages. "That was about as best as I could do." Japan's Daisuke Suzuki got 10th in his 3rd event.
Click on thumbs to open the X Fighters Osaka gallery :
Final results



1. Taka Higashino (JPN)
2. Tom Pages (FRA)
3. Adam Jones (USA)
4. Rob Adelberg (AUS)
5. Levi Sherwood (NZL)
6. Dany Torres (ESP)
7. Javier Villegas (CHL)
8. David Rinaldo (FRA)
9. Josh Sheehan, (AUS)
10. Daisuke Suzuki (JPN)




Red Bull X-Fighters World Tour - Standings



1. Pages 325 points
2. Adelberg 265 points
3. Torres 245 points
4. Sherwood 190 points
5. Higashino 165 points
6. Sheehan 110 points
7. Jones 110 points
8. Rinaldo 105 points
9. Villegas 85 points
10. Maikel Melero (ESP) 60 points


Support us: Like and Share it!

Video of the month

Facebook /FORTY8Mag

Partner