Pages aces best run ever
to win World Tour title
Pictures: Mitter, Grund, Hagena and Carrascosa

France's Tom Pages was crowned the 2013 Red Bull X-Fighters World Tour Champion with a heart-stopping performance in Madrid to complete the most exciting season in the 13-year history of the world's premier freestyle motocross competition with more winners and more spectacular tricks than ever before.
MADRID (Spain) – Tom Pages of France won the 2013 Red Bull X-Fighters World Tour on Friday in front of a frenzied Madrid crowd of 23,000 with what was probably the most electrifying runs ever in the season finale. Japan's Taka Hagashino finished second on a thrilling night of FMX in Madrid's famous Las Ventas bullring with Javier Villegas of Chile taking third place. Pages took the World Tour championship with 360 points with the 2011 champion, Dany Torres of Spain, in second with 260 points.

Click Image to zoom
It was the most spectacular season in the 13-year-history of Red Bull X-Fighters as riders pushed the envelope with new tricks and there were four different winners in the five stops on three continents – Pages won the season opener in Mexico City (MEX), Dany Torres was on top in Dubai (UAE), Rob Adelberg got first in Glen Helen (USA), Taka Higashino won Osaka (JPN) before Pages won in Madrid (ESP) in spectacular fashion – with what was being called the best. Torres won the Swatch Best Move Award. Due to situations beyond the control of the Red Bull X-Fighters organizing team, the stop in Pretoria, South Africa scheduled for September was cancelled because the execution of a world-class sportive competition could not be guaranteed. That meant Madrid was turned into the season finale.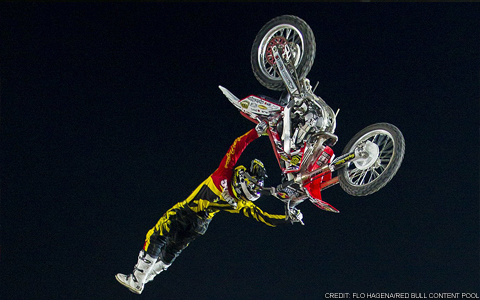 Click Image to zoom
Pages took FMX to new heights in front of the big Madrid crowd, the most enthusiastic on the calendar each year. He dug deep into his big bag of tricks on the jumps that saw him flying up to 15 meters high and 30 meters in distance. Reflecting how close the world's FMX elite has become, the Frenchman became the fourth different World Tour champion in the last four years. Pages epitomized consistency all season, getting on the podium in all five events. On Friday he gave what was probably his most brilliant performance ever in the final against Higashino, nailing his scintillating Flair (a 540-degree turn off a quarter-pipe), his Special Flip (a mid-air back-flip above his seat) and the Volt (a mid-air 360-degree spin off his bike) and then sending the crowd into ecstasy with his new trick, a Flair Tsunami - with his legs flying high into the moonlit night sky.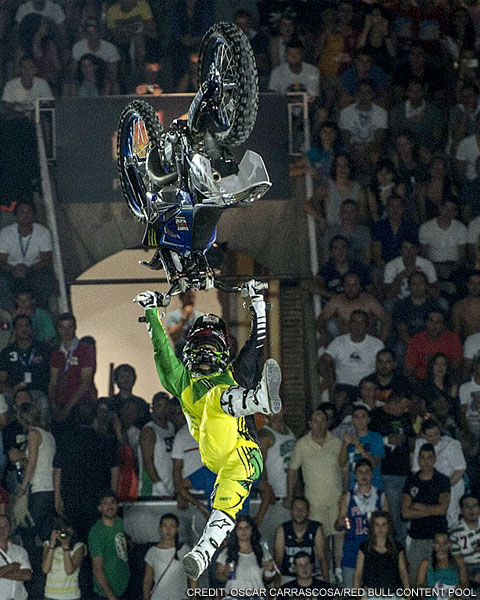 Click Image to zoom
"This is more than a dream, it's just amazing", Pages said, clearly delighted to get his first victory in Madrid. "This is the best crowd in the world." The 2012 champion, Levi Sherwood of New Zealand, was a disappointing fifth overall.

Click on thumbs to open the X Fighters Madrid gallery :
Pages rallies to snatch Quali win from Torres in Madrid Madrid/Spain
Pictures: Winter, Grund and Carrascosa

Frenchman Tom Pages came from far behind in qualifying to beat Spain's Dany Torres in a thrilling showdown ahead of the  Red Bull X-Fighters stop in Madrid.
MADRID (Spain) – Tom Pages came roaring back from far behind with a brilliant second run to beat local hero Dany Torres for the top spot in qualifying on Thursday ahead of the most traditional Red Bull X-Fighters event on the freestyle motocross calendar in the Las Ventas bullring on Friday. After a dreadful first qualifying round that left him 17 points behind Torres and in last place, the Frenchman rose to the challenge with a superb effort under pressure and was rewarded by the judges with a eye-popping score of 89.80 – nearly two full points ahead of Torres' 87.90 for second place. Japan's Taka Higashino was third on 87.1 after a strong second round.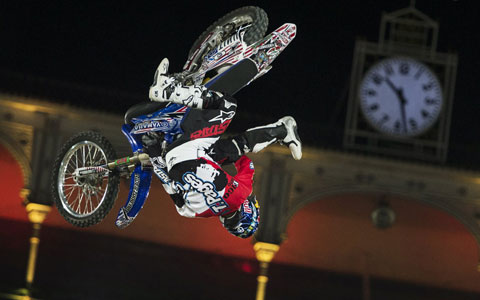 Click Image to zoom
Torres, the local matador who has won twice on his home track in Madrid, threw down the gauntlet and piled the pressure on Pages, the championship leader, with a polished first qualifying run (87.90 points) that was nearly a full point ahead of then-second place Josh Sheehan of Australia (87). Sheehan crashed on his second run while attempting to do a no-hands landing after a successful cliffhanger, suffering from a collarbone injury. Torres aborted his second run early on after a hard landing moments later, setting the stage for Pages. He aced all his big crowd-pleasing jumps – the Flair, the Volt and the Special Flip – and then put the icing on the cake with a new jump he calls the "Flair Tsunami", a wild 540-degree turn off the quarter-pipe with his legs flying high into the night sky.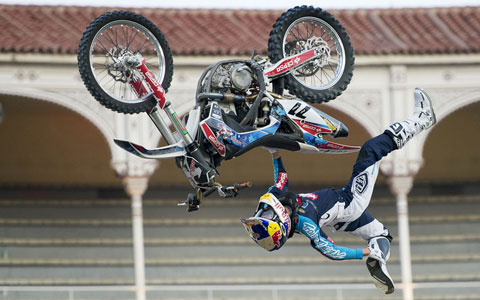 Click image to zoom
"I made a big mistake on my first run so I had to ride past the big ramp and my first run was all messed up because of that," said Pages. "The rest of the run I just used to prepare for the second run. I'm happy now. I came here with my new tricks. I'm excited because I was able to put down my new trick, the flair tsunami."
Red Bull X-Fighters Madrid/Spain
Qualification results

1. Thomas Pagès 89.8
2. Dany Torres 87.9
3. Taka Higashino 87.1
4. Josh Sheehan 87
5. Javier Villegas 86.9
6. Levi Sherwood 86.5
7. Rob Adelberg 86.3
8. David Rinaldo 85.5
9. Maikel Melero 85.4
10. Adam Jones 85.1
11. Clinton Moore 84.7
12. Todd Potter 79.8

Final results
1. Thomas Pages (FRA)
2. Taka Higashino (JPN)
3. Javier Villegas (CHL)
4. Maikel Melero (ESP)
5. Dany Torres (ESP)
6. Levi Sherwood (NZL)
7. Rob Adelberg (AUS)
8. Josh Sheehan (AUS)
9. David Rinaldo (FRA)
10. Clinton Moore (AUS)

Final 2013 Wold Tour standings

1. Pages 360 points
2. Torres 260
3. Higashino 245
4. Adelberg 240
5. Sherwood 225
6. Villegas 150
7. Rinaldo 125
8. Adam Jones (USA) 120
9. Melero 115
10. Sheehan 115







Support us: Like and Share it!

Video of the month

Facebook /FORTY8Mag

Partner