WIN 5x2 TICKETS FOR THE
NIGHT OF THE JUMPS IN BASEL


for Saturday, September 5th 2020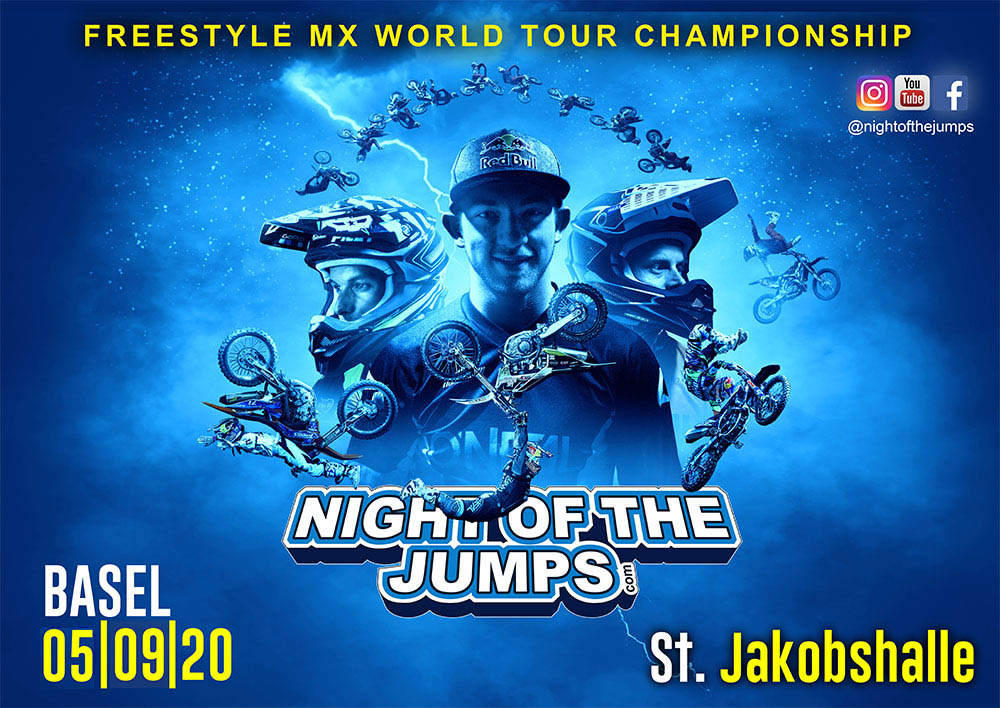 Watch the NOTJ Tour Trailer:
NIGHT of the JUMPs BASEL – 05.09.2020
NIGHT of the JUMPs are redefining and pushing the boundaries of what is possible in Freestyle Motocross with an all-new adrenaline pumping show in 2020. ​
The world's best riders are pushing the limits of what is thought possible on two-wheels and what the human mind can cope with, when battling against not only their competitors, but their own demons to perform all-new tricks on a 100 kilogram motorcycle. Too add more craziness to the world class FMX competitions, NIGHT of the JUMPs will take the best riders from each host nation to compete throughout the event, with more flames and fireworks than you can pack into a New Year's eve celebration.
You can experience it all and even more at any NIGHT of the JUMPs events in a city near you with our exclusive 'Track Walks' before the show begins, where you can get up close and personal with amazing, steel-hardened yet humble athletes. You will be able to learn more about the FMX course and ramps with explanations from our NIGHT of the JUMPs experts.

Tickets for NOTJ Basel are available at www.actnews.ch and at all Ticketcorner Shops. Ticketcorner- Hotline 0900 800 800 (CHF 1.19/min., Festnetztarif).


More Information: http://www.nightofthejumps.com


You only need to LIKE the FORTY8 Facebook Page...
... and fill out this form:


Support us: Like and Share it!

Video of the month

Facebook /FORTY8Mag

Partner