Dear readers of FORTY8,
almost everyone of you is thinking about the future of the Freestyle Motocross sport. Ten years ago nobody thought, that backflips and 360s would be possible. Now they are. The FMX setups are getting bigger with a lot of toys like different ramps, funboxes, wallrides etc.
We of FORTY8 wanted to know, what do you think about the future of the FMX sport? The last months you had the possibility to send us creative and future-based ideas per Email or mail and win a lot of prizes ...


And here are the winners


Category |

Biketech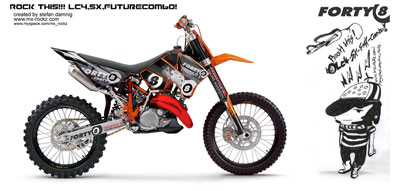 Stefan Damnig: "Today I created a new futuristic touched bike called "LC4-sx-forty8-fmx-futurecombo". I wanted to create a new bike that looks a little futuristic but not overdressed ... My bike is based on a sx 125 '06 bike with the complete rear and front fender of a lc 495R super enduro ...the hole bike is covered with a new forty8 design."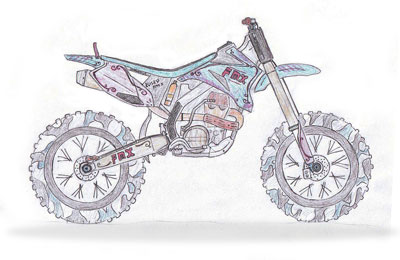 Sean Busko: "The FMX bike I designed is based on a Yamaha 250cc four stroke. The front forks are capable of doing bar-spins and tailwhips, so a single tube is connected to the frame and splits into the forks. Fork travel is slightly lower than stock to accommodate this. Also, an auto-clutch is installed so no lever is used. The side panels are shaved down so that a cut front fender can fit through while doing bar-spin tricks. Because the single tube would make it hard to do cliffhangers, a metal tube extends on each side a couple of inches to hook your feet on. These can also be used as hand grabs (superman fork grab?). A gas cap used by those enduro guys is used for more space to move over the gas tank. The airbox is not cut and has grab holds molded into it so that dirt cant get into it like cut airboxes. On the rear fender, a loop-type grab is installed. There are stunt pegs like on BMX bikes attached to the front and rear hubs so you can grind or stand on them. Just to look cool I added camo tires. I hope you enjoyed reading about my FMX bike design."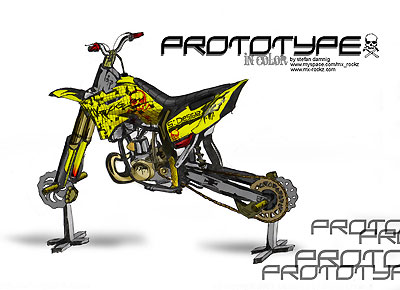 Stefan Damnig

: "This prototype has grindpegs, an exhaust under the engine and a 360° spin-bar."






Category |

Gear & Proctection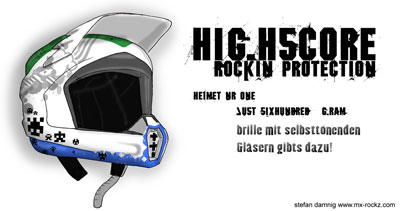 Stefan Damnig: "Future-based lightweight helmet plus goggle with self-toning glases.