LXVI from Vans Fall 2012 Debut Overview

Vans' LXVI line hits store shelves this fall to introduce the next evolution in footwear from the action sports original. With LXVI, Vans delivers our most progressive and technically advanced athletic designs in ultra‐light, flexible and comfortable shoes. With the active lifestyle of action sports in mind, LXVI offers versatile shoes free from traditional construction parameters with a singular focus on everyday wear through superior comfort, flexibility and reduced weight. Fusing these advanced designs with the familiar Vans aesthetic results in the next generation of your favorite shoes.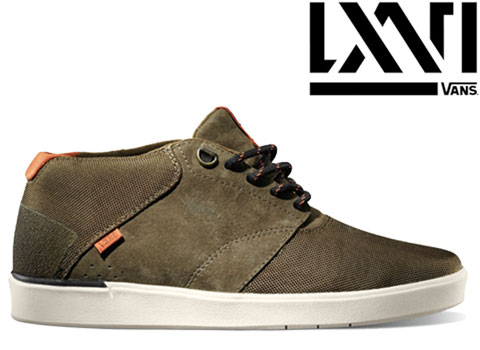 Secant
The Secant outdoor chukka boot looks with a modern athletic design and a full slate of features that make it a rugged performer. This mid‐top's advanced cushioning, support and durability will outlast the rest.

Features:
ActionFit anatomical fit design
WaffleFlex super flexible, super sturdy soles
UltraCush Lite one piece midsole and outsole
provides maximum cushioning and comfort
PleasureCuff profile offers cushioned, nonrestrictive heel support
Screened Vans Sidestripe application

For more information visit: www.vans.de


You can win a pair of the Vans Secant Shoe!
You only need to answer this question correctly:
Which is the correct feature of the Vans Secant Shoe?
Right answer:

Waffle Flex
Deadline of this game was: January 15th, 2013


The winner of this game:

C. Neukomm