The guyz at HARTKOR FAKKER (HKF) are at it again !

The co-founders of the european freestyle motocross scene, with the for sure most explosive brand name on the freestyle planet, create their real authentic styles since 1999.

HARTKOR FAKKER means extreme styles in durable, functional and high quality products with many unique details. Based in Germany, they know what customers require, when they speak of "Made in Germany".

Special for the hotties out there, the modern slightly fitted shape of the BOMB.A 1.9 hooded Zipper creates a real favorite feeling while wearing it. His cotton fabrics, polyester coated and super soft inside (70 % cotton/30% Polyester), will keep you feel REAL good . Uv-light and wash-resistant inks protect against fading and garanties a long-lasting deep black look. The 3 D shaggy print on chest, sleeves and neck in neon colors is combined with pure white screen prints and the neon colored cord lined hood. The BOMB.A 1.9 has a high neck zip up and real girl cut. Equipped with woven Logos, itís ready to feel nestled in your hood. (Price 79,99 €)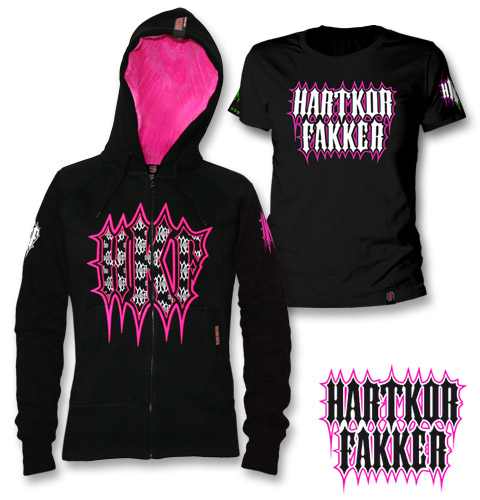 The 4 REAL 0.4 is the sister of the mens shirt 4 REAL 0.5
Same hard explicit statement of HARTKOR FAKKER, but candy colored, with that eye-catching Neon pink print. This Shirt has the blackest black, which you can earn currently and paired with the neon pink/pure white print it will burn your statement in the viewers eyes: ìIím cute... but even tough. Colors and material are extreme wash-resistant. Even after months, this shirt holds its color and form This is only possible with this high-quality soft 100 % cotton garnished with unusually stitches - a joy to wear this. Front, sleeve an neck prints are decorated with the woven label. (Price 29,99 €)

So if your looking for some new kick-ass gear to rock for 2013 check ou www.hkf.to or www.facebook.com/HARTKOR.FAKKER While your there be sure to look around ! Everything is totally authentic and extreme, you will defenitly like what you see!


This is your chance to win this HARTKOR FAKKER Package.
You only need to answer this question correctly:
When Hartkor Fakker was founded?
Deadline of this game is:

February 15th, 2013


Right answer:

1999


Winner:

Y. Schmid


Support us: Like and Share it!

Video of the month

Facebook /FORTY8Mag

Partner