Column written by Nick de Wit
Hey Guys and Girls

Sorry its coming so late but you know what they say. Rather late than never. Well where should I start. First event for the month was in Leipzig Germany. We rode at a metal music festival called With Full Force Festival. There were about 100000 people there over the weekend and all our shows went off really cool. After that I headed back to Belgium to work on one of our new ramps. We had to put the whole thing together because we had to do a show on it on the weekend. There was a lot of work but we did it and on the Friday morning we drove to the KTM factory in Austria.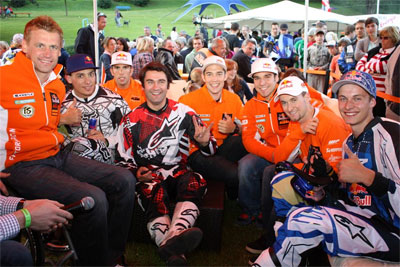 The show was near there but it was actual just over the boarder in Germany. The event was put on by Pit Beirer. He was one of Germanys top MX GP riders until he had his accident. He now works for KTM and he put on this event in his home town to have some fun and raise money for the Wings For Life foundation. There were about 3500 people there and was really fun. We got to hang out with some of the big boys of MX GP. After that event we drove back to Belgium, I was there for 2 days then hopped on a plane to Madrid to watch the RedBull XFighters. Unfortunately I wasn't riding this year but it was kind of nice to sit in the stands and watch for a change. The guys were all riding really well but at the end of the event on Friday night Danny Torres turned out to be the man on top. On the Saturday morning I flew back to Belgium and got there just in time for my show on Saturday afternoon in a town called ST Nicolas. There were four of us riding there and I was all inspired by the riding I saw the night before I had a really good show.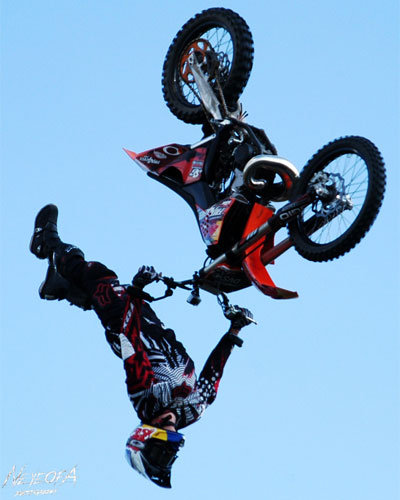 On Sunday I was back to the airport and caught a flight back to SA. I had been in Europe for a while now and was really happy to be coming home. I did some practice on the Tuesday to get use to my bike again. I was feeling really good but my handle bars thought it would be a good idea to break as I was pulling for a flip. Luckily I came all the way round but had to eject at the last second. I was pretty banged up but didn't get hurt too bad. I had to build up my second bike and get ready to leave for Durban on Thursday for a show on Saturday. I managed to do the show but had to have a little help from some pain killers. Lots of fun. Now I get to spend some time at home catching up on all that I have been neglecting over the past few months and also prepare for my openday on the 22 August. Its going to be a fun day where guys and girls can come and try a bit of FMX. We welcome all.

Hope you all are well and thanks for all the support!

Ride Safe

Nick


Support us: Like and Share it!

Video of the month

Facebook /FORTY8Mag

Partner