For those of you who don't know me in Europe (which is probably most of you) my name is Steve Mini and i've been one of Australia's leading FMX riders for a few years now. I live in a small town called Mudgee where i have an awesome riding area with several ramps, dirt jumps and foam pit. The competition scene isn't very big in Australia with only 2 or 3 competitions per year which, to be honest, aren't really worth entering anyway cos they kinda suck.There is a lot of shows that happen in Australia though. One is the shows that are done by the Showtime factory Yamaha Team, which i've been a member of for the past 5 years. The Team travels all over Australia with the other riders Robbie Marshall, Matty Mcferran and Kain Saul doing shows at all sorts of different events. The other show is the Crusty Tour which has become the biggest live touring act ever to come to Australia and New Zealand.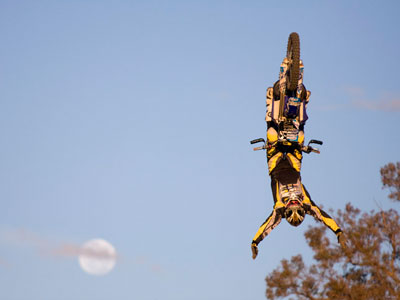 I've been doing the Crusty shows since 2005 alongside riders such as Nate Adams, Mike Mason, Adam jones, Bilko and more. Over the past few years the shows been to a bunch of different countries and
has been a success in each place and we've all had an awesome time being on tour. I enjoy the Crusty shows a lot as it showcases all the tricks that fmx has to offer from the smaller original tricks, to combos and then onto the flip combos rather than just focusing on flip tricks like most comps these days. In November 07 i went over to Switzerland for the IFMXF Ramp 2 Ramp event. I'd been wanting to get over to europe for ages so i was stoked to be invited over.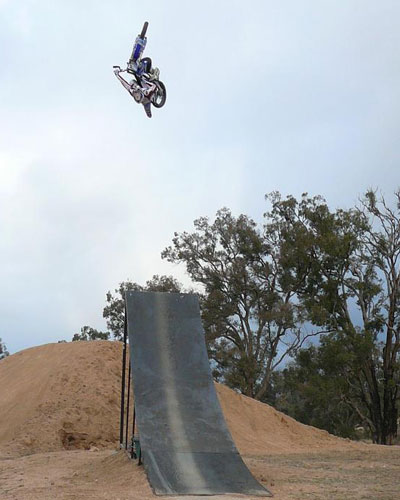 It was a really enjoyable event and it was great to meet some of the Euro riders. Unfortunately i had a crash on an underflip leaving me with a broken finger and unable to finish the event but i still had a blast being over there. I'm hoping to come back to europe to compete in the IFMXF over the next year as i am planning on focusing on comps a bit more rather than just shows. I've been riding a lot lately and working on a lot of different things than most riders try so hopefully i'll be able to get over there and show you guys soon!

Steve

www.stevemini.com



Support us: Like and Share it!

Video of the month

Facebook /FORTY8Mag

Partner