Honda signs Freestyler Robbie Maddison
Press release | Tuesday, 22nd March, 2005
Honda Australia (MPE) has added freestyle rider Robbie Maddison to their factory team. Maddison who, in the past couple of years, has made a name for himself as one of the world's top freestyle riders will campaign Honda's two stroke CR250 in a number of Freestyle Motocross and Supercross events and demos, and will also guest star in the New Zealand leg of the Crusty Demon's 10th anniversary tour.
Flying the Aussie flag for the Crustys this year, Robbie will be making a much anticipated return after a bone breaking crash left him sidelined for the Nine Lives Tour last year. Joining him in NZ will be fellow Honda supported FMX riders Cameron Sinclair and Blake Williams.
Twenty-three year old Maddison has truly become finishing up 2004 brilliantly being when he was crowned "King of FMX" and "King of the Coast" for the second time running. He also won the FMX Australia's People's choice awards and the Planet X Summer Games.
Maddison started racing when he was around 6 years old and grew up banging bars with the likes of Chad Reed and Jono Porter. He quickly became an extreme sports junky and eventually stopped racing at 16 to concentrate on free styling.
In the last twelve months, Maddison has featured on the front page of a number of industry leading mags such as Freerider, Roost Magazine, Australasian Dirt Bike and Dirt Action, the latter of which he now pens a monthly column for.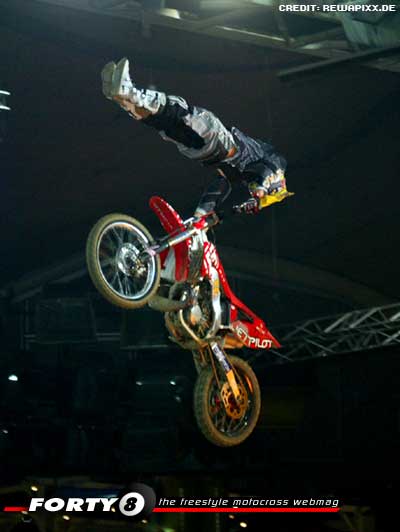 Robbie Maddison during the FMX Demo in Munich | December 2004
As part of his busy competition and demo schedule, Robbie will also campaign a Honda CRF50 in various events in 2005 which has already included the Big Day Out festivals and a trip to Japan. 'Maddos' additional goals for the year are to establish a new series of FMX and to produce two new DVD's.
Honda's Brand Manager, Jason Nicholas noted that the manufacturer recognises how important FMX is becoming within the industry in terms of attracting a new generation of riders.
"Free style is an exciting sport that has a mass appeal for kids and adults alike", he commented. "Honda now manufacturers a whole range of bikes that are suitable for more advanced riders who want to start challenging themselves, so being involved as a sponsor is a good way to showcase the capability of these bikes."
In regard to sponsoring Maddison who trains tirelessly on a world class foam pit near his home in Kiama (NSW), Nicholas said, "There are a lot of young riders setting a good example in the world of FMX and Robbie is one of them. We're really pleased to provide him the bikes he needs to keep up with the demands of the sport and to help someone like him achieve his dreams."
Robbie's personal website is in the process of being constructed and will be live from next month at www.robbiemaddison.com.


Support us: Like and Share it!

Video of the month

Facebook /FORTY8Mag

Partner