Clinton Moore to compete at first 2012
IFMXF Night of the Jumps in Austria
PR by Invert Management / Images: J. Mitter - redbullxfighters.com
Australian Freestyle Motocross "Body Varial" specialist Clinton Moore is making his return to Freestyle MX competition after a lengthy injury when he competes in the IFMXF FIM European Championships this Friday night in Linz, Austria.
Moore has spent the past 6 months after his June 2011 crash at Red Bull X-Fighters Rome which required shoulder surgery and months of recovery. Clint made the tough decision to choose surgery over his chance at riding at X Games 2011 and the Australian X-Fighters round in Sydney.





With only 4 weeks back on the bike from recovery, Clinton said he feels great to be back riding, but he does recognise that his riding still isn't 100% with a short amount of practice.
"I was going crazy at home on the couch and not riding, so I converted the garage into a gym and have done a lot of physio. My shoulder surgeon who has a background in Motocross is really happy with my progress and I felt it was time to get back into FMX." Clinton said.
"My first ride back, I felt really comfortable straight away and started flipping and doing small combos'. There are still a few tricks that stretch my shoulder too much, but it won't be long until I am feeling as good as I did when I came into X-Fighters last year!"



Clinton is however confident his 360 Flat-Spin and Volt body varials are on lock in time for the IFMXF FIM European Championships this weekend. And it may be these tricks that could be the difference for Clinton to reach the podium in the first Night of the Jumps event for 2012.
"I'm really happy that the team at IFMXF have invited me to ride in Night of the Jumps. This is a good start before the World Championships begin in March at Torino (Italy). I have worked on having a wider variety of tricks all over the bike, upside down, flat spin and body varial.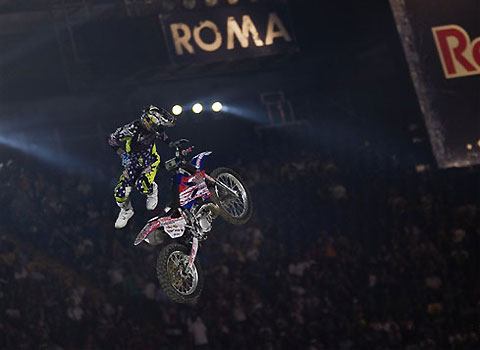 "I'll see how qualifications go and see what I need to improve on before the final. My goal is to just have fun this round and continue working on some new tricks over the next few months before the World Championships, Red Bull X-Fighters and of course X Games as the big event!

Clinton Moore is supported by FlightPath Materials, Fly Racing, M2R Helmets, Alpinestars, Tag, Motul, RK Chains, JT Sprockets and Choice Suspension.







Support us: Like and Share it!

Video of the month

Facebook /FORTY8Mag

Partner