New X Games cities include Moto X
espn press release | December 2012
Moto X fans received good news in Monday's X Games global expansion announcement as the sport will run five to six disciplines at each of the four applicable host cities; Foz do Iguaçu, Barcelona, Munich and Los Angeles. It's the most disciplines for all sports. The biggest surprise of the Moto X lineup is the absence of the Freestyle competition from the Los Angles event, the flagship Moto X contest dating back to X Games 1999 in San Francisco. Freestyle will be run in the three global cities, however.


"It's a really big kick in the nuts for all of us freestyle guys," four-time Moto X Freestyle medalist Adam Jones said about the news. "That's a bummer. They were telling us all along that the event was going to be [in L.A.]. I'm really disappointed because it's the biggest event all year and the one that sponsors really care about."

Tim Reed, ESPN X Games senior director of content strategy said it comes down to space. Freestyle at the global events will be held inside larger stadiums, which is no longer an option in Los Angeles.

"We don't have a stadium and we don't have a big footprint in downtown L.A.," Reed said. "We tried to do it inside Staples Center, but we just felt that with our expanding to four events where we'll have Moto X, three of which offer a good footprint for the Freestyle discipline, we're really looking forward to doing that in the Olympic stadiums in Munich and Barcelona and Foz, too."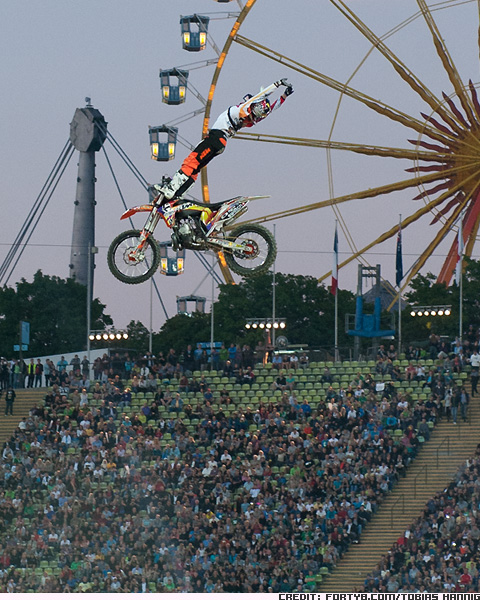 Enduro X [men's and women's], the newest Moto X sport in X Games [2011] will run at all four stops, as will Best Trick, Best Whip and Step Up. Held in open-air venues, including the Olympic stadiums in Barcelona and Munich, Enduro X will run rain or shine. In Brazil it will kick off the competitions with a Thursday evening show. In Los Angeles it will maintain its spot in the Staples Center as the closing event, Sunday evening.

No Moto X riders have officially been selected but the top riders in each sport are expected to be invited as well as local athletes where appropriate. Cody Webb earned a silver medal in Enduro X in 2012 and finished runner-up in the 2012 AMA EnduroCross series. He believes his sport is getting action in four cities because it's a good fit and something new.#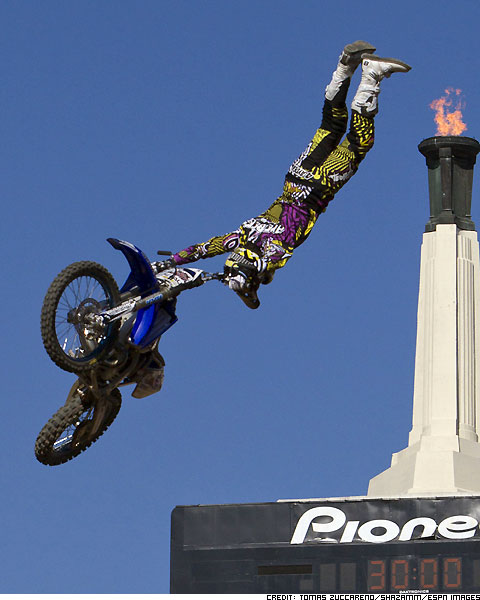 "I think they see an incredible amount of talent and heart," Webb said, referring to ESPN's organizers. "Most of the riders out there including me are doing this for not much money at all. We're just doing it because we love the sport. We love riding and it's what brings out our talents the most. I think they see that and the opportunity for a huge amount of growth."

In Step Up, Ronnie Renner and Matt Buyten are expected to continue their battle from last summer and they will now have four chances to outdo each other. In their last meeting in June at the Staples Center Renner set an X Games record by clearing 47 feet.

Moto X Speed & Style will run in Brazil only and Women's Racing will continue its streak in Los Angeles.

Here are the Moto X events listed for each X Games site:

Foz do Iguaçu [April 18-21]:
Best Trick
Best Whip
Enduro X [Men's and Women's]
Freestyle
Speed & Style
Step Up

Barcelona [May 16-19]:
Best Trick
Best Whip
Enduro X [Men's and Women's]
Freestyle
Step Up

Munich [June 27-30]:
Best Trick
Best Whip
Enduro X [Men's and Women's]
Freestyle
Step Up

Los Angeles [Aug. 1-4]:
Best Trick
Best Whip
Enduro X [Men's and Women's]
Racing [Women's]
Step Up


Support us: Like and Share it!

Video of the month

Facebook /FORTY8Mag

Partner