RED BULL X-FIGHTERS 2007
RED BULL X-FIGHTERS AT SLANE CASTLE!
Rock n' roll meets freestyle motocross on May 26, 2007 at the famous location of Slane Castle in Ireland. The crème de la crème of international FMX superstars will indulge in a massive fight to become the "High King" on two wheels. Those who can't witness the event on-site go online and watch the Red Bull X-Fighters webcast!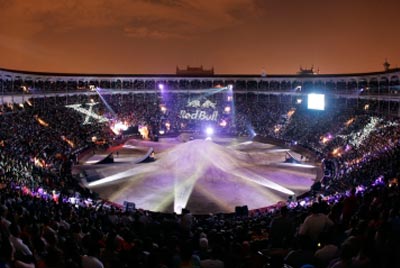 Leading the line-up will be legendary Mr double backflip Travis Pastrana (USA) rocking the course with experience, intuition and unbelievable skills. Winner of this year\'s Mexico City event Dany Torres (ESP) and Aussie FMX superstar Robbie \"Maddo\" Maddison (2nd, Mexico City 2007) will prove their skills and guts to hit the podium again, too. Also, newcomers Charles Pagès (FRA) and Jeremy Lusk (USA) will be in to challenge their heroes, among them showman Ronnie Renner (USA) and Swiss Mat Rebeaud!
What you get is an adrenaline-loaded evening combining the roaring engines of the FMX superstars with the rock \'n\' roll attitude of music acts including Ash, The Blizzards, Director and Afro Celt Sound System. The location of Slane Castle will be transformed into a modern Celtic battleground. A totally new track set-up with different dirt take-off options and landing faces is bound to pose the ultimate challenge for the riders as well as give spectators even more breathtaking perspectives on a unique FMX playground: huge kicker ramps, dirt jumps as well as a quarterpipe never before seen in FMX.

Missed to get your ticket for the Red Bull X-Fighters Slane Castle? No worries, enjoy the live show online on www.redbullxfighters.com on May 26, 2007 - 10:00 pm local time (May 26 - 09:00 pm UTC)! The webcast will excite you with the live video feed (English commentary) and unique super slow motion images. Also, you will be provided with the latest info on the event and riders written in a Live Ticker including current standings and a Question & Answer section!

CLICK ON THE FOLLOWING LINK TO VISIT THE WEBSITE AND BE UP TO DATE WITH THE RED BULL X-FIGHTERS 2007: http://www.redbullxfighters.com



Support us: Like and Share it!

Video of the month

Facebook /FORTY8Mag

Partner