Red Bull X-Fighters 2005 in Madrid/Spain
Twelve of the world's best freestyle motocrosser, 23,000 of the world's best freestyle motocross fans and the Las Ventas arena in Madrid: this uniquely explosive mix has been known since 2002. The next fireworks of Supermans, backflips and kiss-of-deaths are to be lit late in the evening of July 21, 2005.



The twelve seats in the arena itself are already reserved – for guys like "wonderboy" Travis Pastrana, Ronnie Renner (winner of the recent overseas-premiere of the X-Fighters in Mexico City) or the Spaniards Edgar Torronteras (winner in Las Ventas in 2002) and Dani Torres. The two of them will definitely have a home advantage since they are local "bullfighters".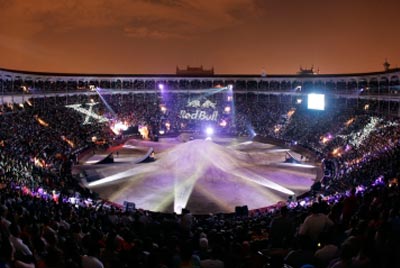 The breathtaking atmosphere in the arena during the opening show

Live broadcast on TV and Internet
Eurosport will broadcast the Event on Thursday, July 21st on 10:30 pm. A small consolation for all those who did not get any tickets anymore: Here at www.redbullxfighters.com the night of the motoreros will be broadcasted via Live Webcast starting at 10:30 pm local time and updated with new features: Additionally to the main camera you will be able to select from two web-cams focusing on the drivers area and another one broadcasting images of the jury. The live-ticker will provide updates on everything that goes on in the stadium in the night on 21 July. If you still have any more questions - simply post them online. They will all be answered in the live-ticker or via email.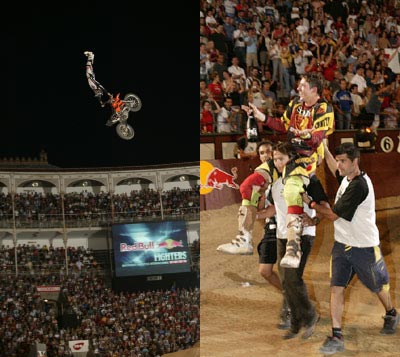 Ronnie Renner doing a Tsunami and the 2004 winner Travis Pastrana

Starterlist X-Fighters 2005
TRAVIS PASTRANA
NATE ADAMS
RONNIE RENNER
MANU TROUX
BUSTY WOLTER
KRIS BROCK
MATHIEU REBEAUD
KENNY BARTRAM
ROBBIE MADDISON
EIGO SATO
DANI TORRES
AILO M. GAUP


More information about the event on www.redbullxfighters.com


Support us: Like and Share it!

Video of the month

Facebook /FORTY8Mag

Partner