RED BULL X-FIGHTERS | Locations 2008
The Red Bull X-Fighters tour 2007 was a real blast and had both riders and spectators want a lot more of all that. So what seemed to be the ultimate in FMX skills, style and show, will see the next step of a one-of-a-kind FMX evolution.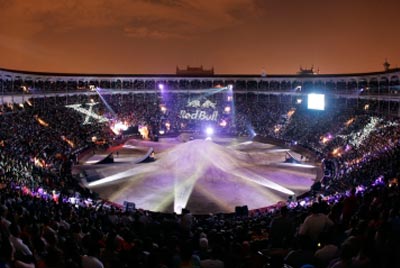 Progressing in the level of performance, creativity and entertainment the Red Bull X-Fighters will be touring the world again in 2008 with stops in Mexico, Brazil, Italy, Spain, Germany and the USA. Top-class riders from all over the world are ready to start their engines and compete in a series full of new and challenging FMX playgrounds!
4 April - Mexico / Mexico City / Plaza de Toros
3 May - Brazil / Rio de Janeiro / Sambodromo
16 May - Italy / Rome / Circo Massimo
14 June - USA / Texas / Historic Fort Worth Stockyards
4 July - Germany / Wuppertal / Steinbruch Oetelshofen
17 & 18 July - Spain / Madrid / Plaza de Toros de las Ventas (2 days)


CLICK ON THE FOLLOWING LINK TO VISIT THE WEBSITE AND BE UP TO DATE WITH THE RED BULL X-FIGHTERS 2008: http://www.redbullxfighters.com



Support us: Like and Share it!

Video of the month

Facebook /FORTY8Mag

Partner