Moto X Athletes in ESPN Moto X Championships
Paul Taublieb/MXi | February 2008
(Feb. 27th, 2008, Malibu , CA ) ESPN has announced the full list of the first wave of moto x athletes competing in the inaugural ESPN Moto X World Championships, being held April 12-13 at Qualcomm Stadium in San Diego.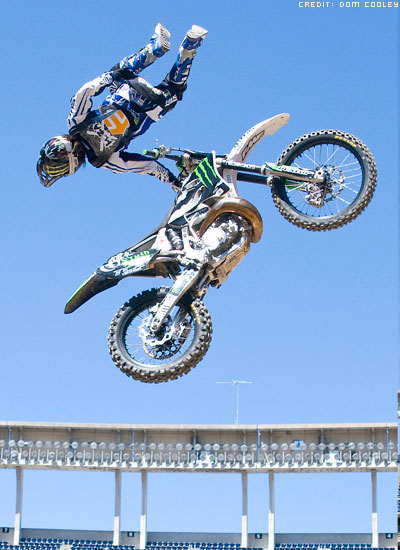 Another round of athletes will be announced, but at this time athletes named below are invited to compete in the Moto X disciplines of Freestyle, Best Trick, Supermoto, Moto X Racing, as well as Step Up and Speed & Style, the latter two of which were created by Paul Taublieb of Media X International, Inc. (MXi) in conjunction with the X Games, the leader and pioneer in action sports events and competitions.

MXi also serves as the official sport organizer for ESPN for the event under the direction of X Games' Sports & Competition division.

For the latest information about the Moto X World Championships, please go to www.expn.com. For more information about Paul Taublieb/MXi please go to www.mediax.tv or paul@mediax.tv



The athletes invited in this round are:

BEST TRICK
Nate Adams
Adam Jones
Kyle Loza
Jeremy Lusk
Scott Murray
Todd Potter
Mat Rebeaud
Blake Williams
4 More to Be Named

FREESTYLE
Nate Adams
Taka Higashino
Adam Jones
Jeremy Lusk
Robbie Maddison
Mike Mason
Todd Potter
Mat Rebeaud
Ronnie Renner
Jeremy Stenberg
4 More to Be Named

MOTO X RACING
Troy Adams
Justin Brayton
Ryan Clark
Jose Demuth
GavinGracyk
Broc Hepler
Jason Lawrence
Jeremy McGrath
Travis Pastrana
Eric Sorby
Heath Voss
Nicholas Wey
Four More to be Named

SPEED & STYLE
Nate Adams
Kenny Bartram
Mike Mason
Travis Pastrana
Ronnie Renner
Jeremy Stenberg
2 More to be Named

STEP UP
Matt Buyten
Ricky Carmichael
Tommy Clowers
Brian Deegan
Jeremy McGrath
Todd Potter
Ronnie Renner
Additional Names TBD

SUPERMOTO
Cassidy Anderson
Darryl Atkins
Ben Bostrom
Mark Burkhart
Benny Carlson
Adam Cini
Brandon Currie
Steve Drew
Mickey Dymond
Chris Filmore
Carey Hart
Troy Herfoss
Drake McElroy
Jeremy McGrath
Joey Pascarella
David Pingree
Heath Voss
Jeff Ward


14 More to be Named and/or Qualify from the AMA Supermoto National being held in conjunction with the ESPN Moto X World Championships



Support us: Like and Share it!

Video of the month

Facebook /FORTY8Mag

Partner