Company presentation | CMYK
written by CMYK | April 2008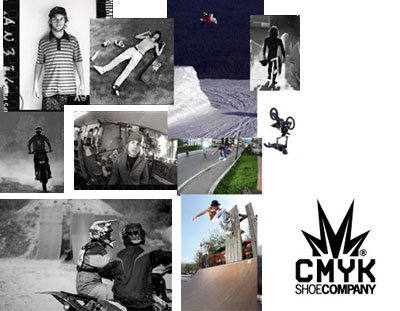 Time goes by ... it was just one year ago when a group of riders sitting around a table in a Pizzeria decided to start the project of this new brand, and next you'll find it in your favorite shop what is distinguishing CMYK brand from ...




... the others is the skill (capability) to combine values and expectations coming from the Street, like the need to express yourself in your own unique way, with the need to transfer in every product technical features joined with creativity and emotions.
For all the guys that wish to leave a permanent own sign, like a tag on the wall or the harmony of the perfect trick. The name CMYK represents in the word of photography the acronym for the undamental colors; mixing them in different way you can get infinite variations. In the same way mixing creativity and different sports culture we've developed the philosophy of our brand.

It took us some time, one full year work, to design, to research for adequate materials, to organize a proper distribution net and finally produce our first collection. Now we want to leave our sign. The core group of the CMYK shoecompany is represented by Andrea Codoro skater for passion and professional snowboard rider and Alvaro Dal Farra international level FMX rider and snowboarder.




More information:



www.cmykshoes.com


FORTY8 and CMYK shoes Design Contest



FORTY8 and CMYK shoes are doing a design contest. You guys have the chance to design a new CMYK pattern. The best design will be presented online on FORTY8 and maybe it also will be printed on a CMYK shirt or shoe - it's like your own signature series!



Take part in the competition here!




Support us: Like and Share it!

Video of the month

Facebook /FORTY8Mag

Partner