MotoX Best Trick: Twitch Is Tops
espn press release | Thursday, August 4, 2005
Stenberg has Best Trick; Pastrana falls apart and recovers
LOS ANGELES – Do you know Jeremy Stenberg? Prior to 2004 he was primarily known for being the member of the Metal Mulisha known as "Twitch" while occasionally placing in the Top 10.
Meet the new Jeremy Stenberg. The one that has dominated the world of Freestyle Moto X the past year. The coronation of "Twitch" took place just outside of the STAPLES Center on Thursday night when the 23-year-old earned his first-ever X Games gold in Moto X Best Trick. Sine the beginning of 2004, Stenberg has finished first or second
in a freestyle competition 17 out of his past 20 events.
With leader Brian Deegan forced to sit out the event while still recovering from the effects of a crash eight weeks ago, Stenberg took the weight of the Mulisha on his shoulders by nailing a No-footed Backflip to one-handed lander on his first run for a score of 92.20 which held up for the win.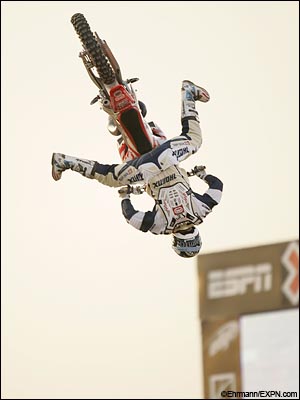 Jeremy Stenberg throws a record-breaking 90-foot
whipped nofooted backflip to take the win.
"I was surprised the jump went well," said Stenberg, of the 90-foot flip that was the longest in X Games history. "The judges are looking for harder tricks all of the time, so I was definitely pumped."
Travis Pastrana (Annapolis, Md.) pulled of the Saran Wrap Backlflip to no-handed lander and earned second place with a score of 91.20. On his first run he attempted the first-ever Backflip to Barspin and the specially-engineered front wheel fell off on the landing, leaving Pastrana in dead last.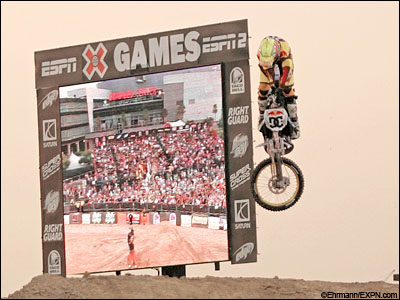 Travis Pastrana was the only moto competitor to ride a unicycle. Okay, so it was really a backflip on a specially made bike that was supposed to barspin.

"I thought it was cool," Pastrana said of the first bike. "A lot of money and a lot of engineering went into that bike. But we just had fun out there. Even though I crashed, my creativity took over and we went from Plan A to Plan B to Plan C and D won it for me."
Nate Adams (Glendale, Ariz.) finished with the bronze after landing a clean off-axis 360 for his sixth X Games medal. "I've only been on my bike for five weeks," Adams said of his recovery from a previous injury. "So, it's all good."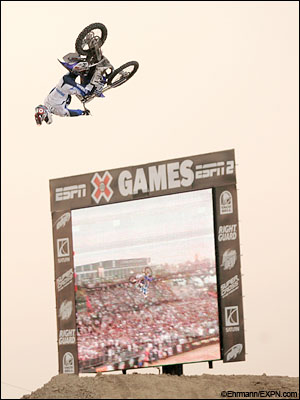 Nate Adams hangin' tight on a 360 and a bronze.
Chuck Carothers (Cleveland, Texas) attempted his Carolla on the final run of the night and was unable to get the landing correct as he slammed into the top of the bike and fell to the ground. He was checked out by medical personnel before walking off under his own power.
Moto X Best Trick Finals



Rank
Athlete
Run 1
Run 2

Score

1.
Jeremy Stenberg
92.20
88.60
92.20

2.
Travis Pastrana
66.00
91.20
91.20

3.
Nate Adams
88.60
90.40
90.40

4.
Kenny Bartram
69.00
89.40
89.40

5.
Ronnie Faisst
86.40
86.40
86.40

6.
Dustin Miller
86.40
85.20
86.40

7.
Nikki Danielson
83.80
84.80
84.80

8.
Ailo Gaup
81.00
84.60
84.60

9.
Beau Bamburg
66.60
77.00
77.00

10.
Chuck Carothers
71.20
69.20
71.20
Check out www.espn.com or www.xgames.com for more information.


Support us: Like and Share it!

Video of the month

Facebook /FORTY8Mag

Partner