Steve Mini won South Australian FMX Championships
Press Release Berlinièros Sports Agency
Out off the plane onto the compound. After reaching his first IFMXF final at the NIGHT of the JUMPs in Berlin and getting both days on the podium at the FMX Fever in Rotterdam Steve Mini got another milestone in his FMX career by winning the South Australian FMX Championships in Wudinna against a star-packed field.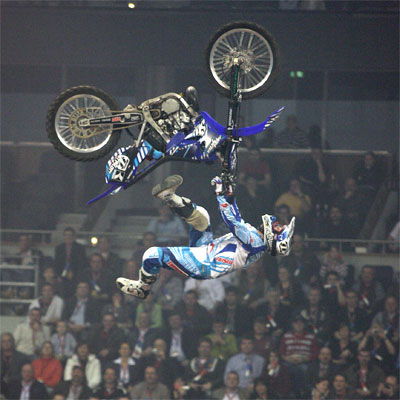 Steve Mini

The South Australian FMX Championships is a competition that has only been running for 2 years, but this year attracted 14 riders including most of Australia's top guys like Cam Sinclair, Joel Balchin, Chucky Norris, Josh Sheehan and of course Steve Mini. Mini said: "Even though i was extremely jetlagged from Europe i rode well all day." He qualified first, keeping in front of Sinclair by just a few points.

In his final Mini nailed all of his tricks perfectly. With a Holy Grab, KOD Indy flip, Lazyboy to no hand landing, Superflip, Clickerflip, no hand lander flip and a four trick combo with Holy Grab to 1-Hand Indy to Rock Solid to No-Hand-Lander he put himself on top of the field and took the win ahead of Cam Sinclair.

In the interview with the Freerider MX magazine he said: "I am kinda surprised to win here today. When you're up against the likes of Cam Sinclair, Joel Balchin and Chucki Norris you definitely can't bank on walking away with the cash. I put together a really smooth run that felt good. This is my first win in an Australian competition, so I'm stoked."

South Australian FMX Championships in Wudinna

Results
1. Steve Mini
2. Cam Sinclair
3. Joel Balchin
4. Michael Norris
5. Josh Sheehan
6. Brad Burch
7. Wayne Giblett
8. Adam Grope
9. Sam Balnaves
10. Joe Sheppard
11. Dylan Puckridge
12. Adam Bayard
13. Jason McGregor


Support us: Like and Share it!

Video of the month

Facebook /FORTY8Mag

Partner