BEST FREESTYLE MX - CRUSTY DEMONS 14

Crusty Europe Press release
2009 IMPACT XTREMEY AWARDS WINNERS

The qualifying videos for this year's nominations were titles that were
released from January 1, 2008 to December 31, 2008.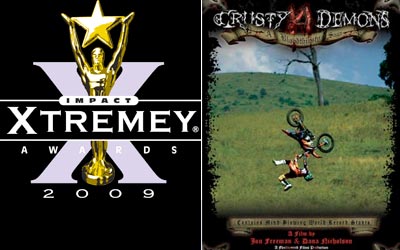 Qualifying videos must be released within the calendar year and submitted to
The Impact Xtremey Awards organization for consideration by the first of the
following year. The nominees are selected from polling data collected throughout the year and finalized by a nominating committee. The nominees are placed on a popular vote ballot and the voting is opened for any and all to participate.
...and THE WINNERS are:
BEST FREESTYLE MX
CRUSTY DEMONS 14: A BLOODTHIRSTY SAGA
By Fleshwound Films
For more info please check:www.crustyeurope.com


Support us: Like and Share it!

Video of the month

Facebook /FORTY8Mag

Partner