Moto X Freestyle: Pastrana Pulls Gold
espn press release | Thursday, August 6, 2005
Is golden again, but field keeps up with Moto's crown prince

LOS ANGELES – If one thing is becoming clearly evident in the world of Moto X Freestyle it's that the gap between Travis Pastrana and the rest of the field is narrowing. And it's making for a well-rounded, complete competition. One where the winner isn't as clear a slam dunk as it has been in the past.

That being said, Pastrana (Annapolis, Md.) still has the Bull's-eye on his back. And that's pretty much all anyone saw in Saturday night's X Games 11 Moto X Freestyle final as he flipped everything in sight on
his way to his fifth Freestyle gold in six attempts and 10th medal overall, edging out Kenny Bartram with a score of 92.80.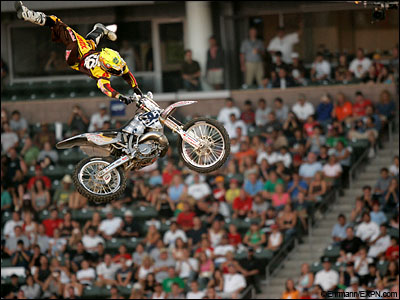 Travis Pastrana with a extended CracNac Indian

"Everyone has a completely different style of riding and a different style of judging," said Pastrana of the first through fourth places that were separated by less than 2.5 points. "I feel amazing. This has been the most competitive Freestyle field I have competed against and it feels great to win.

"I was kind of hurt for most of the year but this was the best X Games ever for me," Pastrana said. Pastrana wowed the crowd of 26,413 at Home Depot Center with huge Cliffhangers a big Lazyboy and numerous flip combinations as well as a huge wall ride.

Bartram earned his third silver and fifth medal overall with a score of 92.00 with a first run that included Superman Double can-cans to no-handed lander and a Fakie off the wall. He also threw in his Sidesaddle
Backflip that earned him a fourth in Best Trick. "Sometimes you win and sometimes you lose," said Bartram.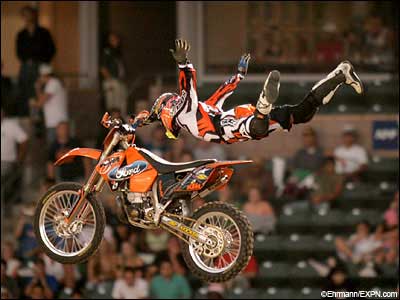 Kenny Bartram doing a Rock Solid

Last year's champ, Nate Adams (Glendale, Ariz.), was disappointed with his bronze after turning out many flip combos and variations, including linking a 360 and a Backflip on consecutive jumps. "I thought I would do better, but considering I wasn't even riding four weeks ago, I'm happy," Adams said.

Jeremy Stenberg (Winchester, Calif.), who has proven that he can be a legitimate challenger to Pastrana with his consistent performances this year, finished fourth despite a huge 100-foot flip – 10 feet longer
than the one he did Thursday that set a world record and gave him gold in Best Trick.
Moto X Freestyle Finals Part 2

Athlete
Run 1
Run 2
Score

Travis Pastrana
92.80
83.20
92.80

Kenny Bartram
90.80
92.00
92.00

Nate Adams
89.80
90.80
90.80

Jeremy Stenberg
89.40
90.60
90.60

Adam Jones
89.20
82.80
89.20



Moto X Freestyle Finals Part 1

Rank
Athlete
Run 1
Run 2
Score

1.*
Travis Pastrana
88.80
91.40
91.40

2.*
Jeremy Stenberg
90.20
78.80
90.20

3.*
Nate Adams
62.60
89.40
89.40

4.*
Adam Jones
85.20
88.00
88.00

5.*
Kenny Bartram
87.60
85.40
87.60

6.
Ronnie Faisst
86.40
87.20
87.20

7.
Ronnie Renner
83.40
85.40
85.40

8.
Dustin Miller
84.80
84.80
84.80

9.
Drake McElroy
82.80
84.40
84.40

10.
Beau Bamburg
50.00
--
50.00

*Indicates advanced to Finals.

Rules/Scoring: In Finals Part #1, each of the 10 riders will take two runs that are a maximum of 90 seconds each. The athletes with the top five scores qualify for Finals Part #2. In Finals Part #2, each rider completes two runs. Riders are ranked 1-5 based on their best score. Scoring is based on overall impression, tricks, execution, use of the course and landings.


Support us: Like and Share it!

Video of the month

Facebook /FORTY8Mag

Partner