Red Bull X-Fighters World Tour 2010
Ranking Session / California (USA)
For The First Time In History Riders Have To Go Through A Unique Qualification Session.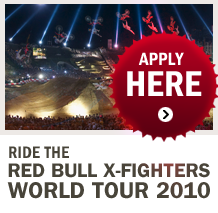 In its 10th year the Red Bull X-Fighters will be throwing its doors open to the whole world and inviting all the globe's best FMX riders to take on the international elite for a spot on the number one freestyle motocross tour. Between 2nd and 10th February 2010 a world ranking will be created in the Red Bull X-Fighters Ranking Session taking place at the Red Bull Compound in California (USA), where the 26 best applicants will be invited to do battle for 6 open spots on the Red Bull X-Fighters World Tour 2010. The top four riders from the 2009 season Nate Adams (USA), Robbie Maddison (AUS), Eigo Sato (JAP) and Mat Rebeaud (SUI) are already pre qualified. Two wildcard riders will finally complete the starting list of 12 riders for each Tour Stop.
To take part in the Ranking Session interested riders have to apply via www.redbullxfighters.com - application is open from today for 4 weeks until December 1st 2009. All riders who have not previously competed in the Red Bull X-Fighters, X-Games, Dew Tour or Night of the Jumps must upload a video, with a maximum of 90 seconds, showing their performence, but all riders are welcome to upload their recent riding and new tricks for consideration. An international selection committee will then choose the 26 best riders, who will receive an invitation by December 15th 2009 confirming they have been chosen to take part in the Red Bull X-Fighters Ranking Session. Riders must - at a minimum - be able to proficiently demonstrate backflip combination maneuvers to be considered and gave their own health insurance. All applicants younger than 18 years of age must have their parental release.
Only the best riders in the world will ride the Red Bull X-Fighters World Tour 2010, which will again take place between April and September 2010 in outstanding locations around the globe.
More: www.redbullxfighters.com


Support us: Like and Share it!

Video of the month

Facebook /FORTY8Mag

Partner