THE CRUSTY DEMONS RETURN
WITH THEIR GNARLIEST SHOW EVER
Crusty Demons Press release

Get ready for the most exhilarating, electrifying and action packed Crusty Demons tour to date! It's Australia's chance to see the one-and-only, original Crusty Demons in THIRST 4 DESTRUCTION in Perth, Adelaide, Melbourne, Sydney & Brisbane in May and June 2010.
TICKETS ON SALE THURSDAY, NOVEMBER 19
THIRST 4 DESTRUCTION will be a three hour, fully choreographed, extreme entertainment spectacular featuring the world's greatest freestyle motocross riders performing the most death-defying stunts on the planet, including the insane Back Flip combination tricks performed by all Crusty riders. Audiences can expect to see minibike chaos, world famous freaks, ridiculous stunts, the stunning Crusty Babes along with a fire, pyrotechnics, lights and sound show that will leave them scorched and scared! This high-octane, entertainment event brings with it a brand new, mindblowing set and stage the size of which has never been seen anywhere before!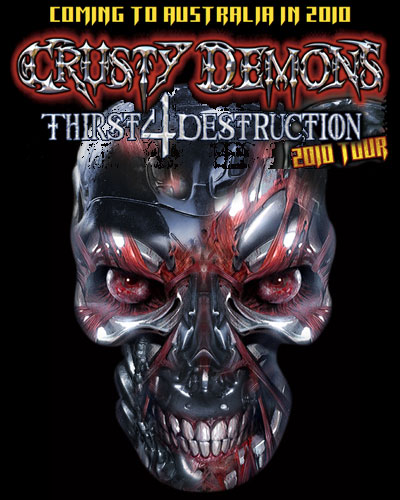 And for the first time ever, Australian audiences can experience live the dynamic attempt at the yet to be landed ramp to ramp Front Flip! To add more thrills, there will also Double Backflips on three different machines!
Dainty Consolidated Entertainment is thrilled to be on board to produce the best Crusty Demons shows ever staged! The Crusty Demons live shows were an instant hit when first created in 1999. Almost US$100 million in ticket sales has been generated globally in that time, making it one of the most successful touring acts ever to visit those countries. In Australia the live shows have sold out arenas all over the country every year since their debut in 2003!


Every performance on THIRST 4 DESTRUCTION will be an action packed explosion of the senses and will be the only chance for fans to witness all the world's top riders in one place going for broke.

The greatest rider line-up* yet includes:

(AUS) Bilko 2009 X Games Gold medalist in FMX and Silver Medalist in Best Trick, also 2009 Transworld magazine Freestyler of the Year.
(USA) Seth Enslow Crusty Legend, and long distance jump pioneer.
(AUS) Robbie Maddison Current Guinness Book long distance World record
holder (351ft).
(USA) Brian Deegan The General of the Metal Mulisha and extreme sport legend.
(AUS) Cam Sinclair The only man to consistently land double backflips.
(USA) Adam Jones Current Dew Tour World FMX Champion.
(USA) Nate Adams Mr Perfect, former Dew Tour and X Games Champion.
(USA) Mike Mason Multiple X Games Medallist.
(AUS) Jackson Strong First ever 75 ft front flip on a motorcycle ramp to ramp.
(AUS) Joel Balchin Aussie OG.
(AUS) Michael 'CHUCK' Norris The combo king. See him do 4 tricks in one jump!
(USA) Beau Bamburg OG of the sport and x games medallist.
(AUS) Ben Fiez Worlds only double flipping mini bike rider.
(AUS) Chris Jones BMX tow in Double backflipper.
(USA) Jimmy Blaze World number 1 snowmobile backflipper. 75ft ramp to ramp.
(AUS) Josh Sheehan Check out the latest Crusty grom, pull the biggest ruler
backflips out there.
(USA) Caleb Moore See his insane backflip combo's on a quad motorbike.
(USA) BUBBA Crusty clown and crash test dummy.
Australia's own Robbie Maddison, World Distance record holder and Red Bull X-Fighters round winner, will be heading back down under to perform for the first time in 3 years. Maddo is putting his hectic global schedule on hold to participate in the Tour. His fearlessness has earned him 2 of the 7 World records currently held by Crusty Demons riders! Brian Deegan the General hits our shores again and this time he is bringing something more than a motorbike with him!

Strap in for massive production, mind blowing stunts, electrifying energy,
courageous riders, crazy antics, outrageous tricks and most importantly
an unforgettable adrenaline packed experience!

*Proposed rider line-up. Subject to change without notice

DON'T MISS THE CRUSTY DEMONS ACROSS AUSTRALIA
_PERTH BURSWOOD DOME SAT 8 MAY
_ADELAIDE ENT. CENTRE SAT 15 MAY
_MELBOURNE ROD LAVER ARENA SAT 22 MAY
_SYDNEY ACER ARENA SAT 29 MAY
_BRISBANE ENT. CENTRE SAT 5 JUNE

MEDIA ENQUIRIES KERRY O'BRIEN PUBLICITY
Phone: 03 9510 4777
Kerry O'Brien - kerry@kob.com.au - 0418 256 503
Michelle van Raay - m.vanraay@bigpond.com - 0412 116 167
Vicky Iliopoulos - publicity@kob.com.au - 0410 551 388
www.crustyeurope.com | www.crustydemonseurope.com | www.crusty.com


Support us: Like and Share it!

Video of the month

Facebook /FORTY8Mag

Partner