THE CRUSTY DEMONS RETURN
WITH THEIR GNARLIEST SHOW EVER
Crusty Demons Press release
In fantastic news for Australia's legion of FMX fans, it has now been officially confirmed that a settlement agreement has been reached between Fleshwound Films and Global Action Sports in relation to the Crusty Demons live shows. Under the terms of the agreement, Global Action Sports has agreed to end its involvement with the Crusty Demons live shows as part of a confidential financial settlement.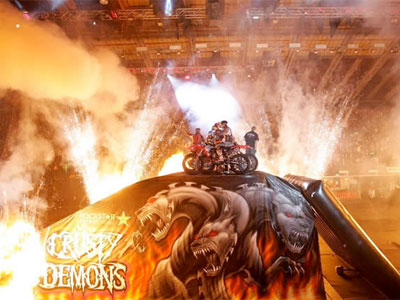 Jon Freeman of Fleshwound Films is delighted with the outcome. "FMX fans are definitely the winners here so we're just really pleased all parties have been able to achieve this for their benefit and the benefit of the sport."
Michael Porra, CEO of Global Action Sports agrees: "After months of discussions and a lot of hard work, sense has prevailed and, while our time as the promoter of Crusty Demons has now come to an end, the sport is in very good shape for the fans and we're very excited about the future."
As a result, all future Crusty Demons live shows on a worldwide basis will now be promoted and produced by Crusty Demons World Touring, LLC, which is a new joint venture company between Fleshwound Films and Dainty Consolidated Entertainment. Further details regarding the Crusty Demons Australian and international tour plans will be announced shortly.
Crusty Demons Show its coming to you hometown soon.
www.crustyeurope.com | www.crustydemonseurope.com | www.crusty.com


Support us: Like and Share it!

Video of the month

Facebook /FORTY8Mag

Partner