The upcoming season will be a lovely one for all german Freestyle Motocross fans and riders: FLIGHT CLUB is back. In 2010, the german FMX tour goes into second round. The motto ist the same as in 2009: "Meet your friends and push german FMX to the next level"!
Last year, the german FMX troop called Wrecking Crew came up with the idea of an unique type of event. During the summer, five Tour Stopps were on the schedule and the idea of riders judging other riders turned the FLIGHT CLUB into a great success.


Pro riders like Hannes Ackermann and rookies from all over the country came to the hot spots of the FLIGHT CLUB and spent the days with riding and celebrating. The spectators could get in touch with their heroes and throughout the summer 29 different FMX riders joined the events. Therefore, FLIGHT CLUB became the most successful FMX Tour in Germany.
So the Wrecking Crew decided to continue and with the beginning of 2010 the tour dates were locked down. New Stops are in Tuerkheim (Baden-Wuerttemberg) on a former radar station of the US Army and in Wissen (Rhineland-Palatinate) on a local FMX compound.
A special show will take place in Holzham (Bavaria) where some FLIGHT CLUB riders will have a battle against a selection of international FMX riders.
No matter if you are a young gun or an old dog – every FMX rider can join the FLIGHT CLUB. All the guys that haven´t been participating by now should feel free to contact the organisers and they will get a breezy welcome. The senior 2010 will be Sven Schmid (36) and on the other hand the youngest rider will be 12-year old Luc Ackermann. This kid really is on fire and is willing to battle the big dogs.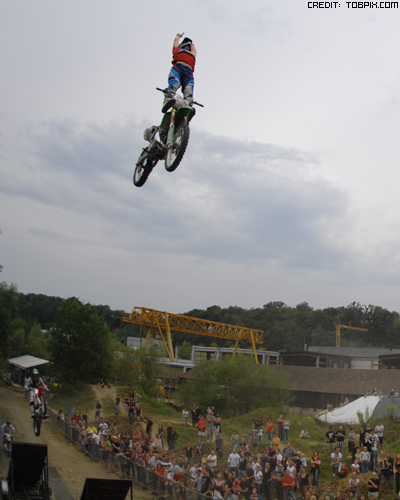 But spectators and participants can also look forward for other activities during the days. BMX and Lakejump action, delicious food, cold drinks and live music are just some of the reasons that make it worth to go on a trip to one of the events in 2010.
Anybody who is interested in the FLIGHT CLUB 2010 should contact the guys. Just send them an E-Mail to videalisten@gmail.com or just type in www.flight-club.de where you can find further infos around end of February. Meanwhile, here are the confirmed dates of the FLIGHT CLUB:
May, 1st: Niederdorla (Thuringia) ; compound of Hannes Ackermann
May, 22nd: Wissen (Rhineland-Palatinate) ; compound of 3evil4
June, 5th: Tuerkheim (Baden-Wuerttemberg) ; Baggespark (former US-Army station)
June, 26th: Toedtenried (Bavaria) ; compound of Andi Sailer
July, 17th: Hennweiler (Rhineland-Palatinate) ; local motocross compound
August, 8th: Biberach an der Riss (Baden-Wuerttemberg) local BMX compound
June, 3rd: FMX Show Oberholzham

More information: www.flight-club.de



Support us: Like and Share it!

Video of the month

Facebook /FORTY8Mag

Partner