Clinton Moore performing the Volt
Invert Management Release

Clinton Moore has made Australian Freestyle Motocross (FMX) history by performing the 'Volt' body varial trick at the Nitro Circus tour in Brisbane. Moore had a major part within the Nitro Circus Live show, performing in the freestyle segments with Travis Pastrana and Blake 'Bilko' Williams with an array of back flip combinations and a 360 spin. However it was the body varial trick called the 'Volt' that had fans standing an applauding when he landed the first 'Volt' outside of the X-Games in the USA which won a gold medal for Kyle Loza.



Clinton Moore performed the Volt over 75 feet, making the risk for losing the bike during the spin even higher and of course landing the trick even harder.
"I have been getting hurt a lot in the foam pit trying to perfect this trick. All I've thought about this week is landing the first one here in Brisbane and now I've finally done it" Moore said.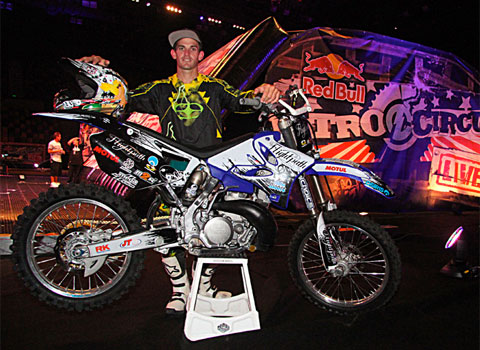 "I'm not sure why, but I wasn't really that nervous tonight. I knew what I had to do, and I felt like I was in the zone. It was just so fun riding in front of so many people".
The Nitro Circus Live tour will travel to the major Australian capital cities throughout May and June where Clinton will perform the 'Volt' each night.
Clinton Moore is supported by FlightPath Materials, Osiris, No Fear, M2R,
Asterisk braces, Motul, RK Chains, JT Sprockets, Choice suspension and Mega


Support us: Like and Share it!

Video of the month

Facebook /FORTY8Mag

Partner