Clinton Moore pushes the boundaries again!
Invert Management Release

Australian professional Freestyle Motocross (FMX) rider Clinton Moore has once again pushed the boundaries at the latest Nitro Circus Live show in Melbourne with variation of the Body Varial trick called the 'Volt'.

Clinton Moore, 22, landed for the first time ever, a "Volt to Seat Grab" during the final stages of the show on Friday 4th of June in Melbourne to a surprised crowd and riders. The trick has been in the back of Clinton's mind for some time, and it was due to the spin that Clinton drifted to the back of the bike that he chose rather than grabbing the handlebars which is the conventional Volt, he instead reached for the Seat as well to perform the very first Volt to Seat Grab combination.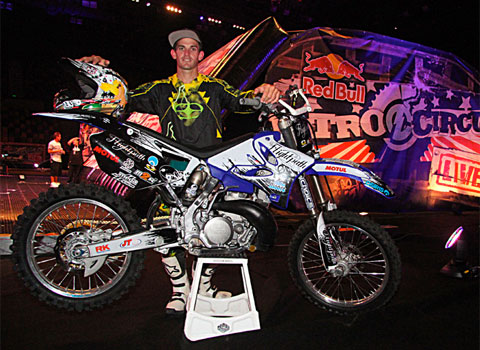 Before the last stop in Melbourne however, Clinton was preparing to perform another Volt combination but due to technical problems through the week there was no time to practice it and Moore decided to just concentrate on the Volt which he crashed the previous week.

"It was pretty crazy thinking about it, but after I crashed last week and watching the footage over and over, I realised I floated too far back from the bike and that's why I missed the handlebars and fell to the ground over 75ft. In one way it hurt a lot, but it made people realise that the trick is still extremely dangerous when you're spinning around the bike essentially doing it blind, and not holding anything."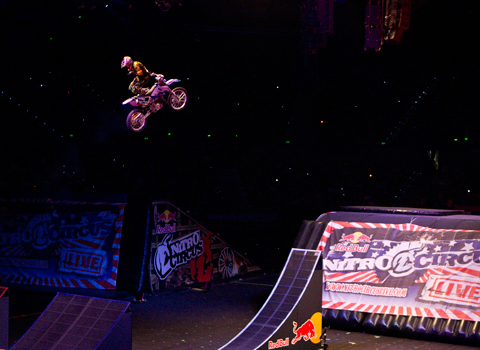 "But watching the footage I thought a seat grab was possible to do if I combo'd it just right. Last night though, I started the spin and realised I was floating back again but this time I quickly thought I should grab the seat and at least try to get back on the bike. Landing 75ft onto your shoulder hurts a lot, so I wanted to stick it. I'm so glad I did!"

Although it wasn't the most picture perfect trick, it was the first time the Volt to Seat Grab was ever attempted and Moore landed it well. The last 2 sold out shows in Melbourne will be exciting as Clinton looks to perfect his new combo as well as performing the 360 in the biggest FMX tour to ever hit Australian shores.

Clinton Moore has hit his straps at the right time of year with the biggest events on the Freestyle MX calendar in coming months, Moore will finish the Nitro Circus Live tour in Melbourne this weekend and return home to practice new innovative spins and varials.

Moore is proudly supported by FlightPath Materials, No Fear, M2R, Osiris, Dragon, FMF, Sidi, Motul Oils, Choice Suspension and Mega Motorcycles.



Support us: Like and Share it!

Video of the month

Facebook /FORTY8Mag

Partner