Where on earth is Remi Bizouard?!
Press Release by Clutch De Beer
A question we've all heard a lot lately. After ending 2009 on a high - wrapping up his 2nd consecutive F.I.M. World FMX championship - he had set the bar high. But, in the fast evolving and dangerous world of FMX nobody rests on their laurels. What was good enough to win 6 months back, may barely be good enough to qualify for an event today – such is the insane rate of progression in this highly competitive sport.

With that in mind, Remi spent the winter off-season planning to perfect some of the tricks in his arsenal, such as his Seatgrab based flip combos and the infamous 360. A heavy winter put a spanner in the works though and Remi headed to Berlin for rounds 1 and 2 of the 2010 IFMXF / F.I.M series frustrated.

Despite the lack of training, he did what he knows best and fought for the win on both nights, leaving Berlin with a slight points lead in the 2010 championship. "I was not 100% ready for Berlin but still left with the points lead, so it was OK I guess"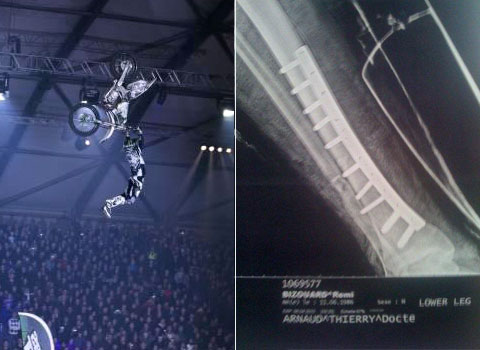 Next it was 5 nights of sold out action at "Masters of Dirt" shows in Vienna and Graz, which had Remi jamming with some of the world's best riders - such as Maddo, Adelberg, Hoyer, Charles Pages, ET, Brice Izzo, Alastair Sayer, Busty Wolter and Massimo Bianconcini – as they all pushed each other to step it up in the various choreographed segments. The relaxed atmosphere, time in the saddle and quality rider field at the MoD events was good training, he had found his groove again and was looking forward to tackling bigger challenges in 2010.
"I felt so good after the MoD events in Vienna and Graz ... 5 days of shows and 3 days of practice inside the arenas in the space of about 10 days..... so I had double the practice of the whole winter!"

And then disaster struck. Whilst working on some new tricks at Brice's FMX park in sunny Marseille, Remi's usually-trusty YZ250 found a false neutral just as he was on the take-off ramp – leaving him to take evasive action and eject from the bike mid flight. The result, one snapped Tibia and an instant trip to the hospital.

That was 8 weeks ago and after surgery, intensive rehab and a lot of positive thought, the determined Frenchman is almost ready to fire up his bike and make up for lost time.
Having started with some light walking last week, he now has 3 weeks of strengthening and mobility training left and then he will be back in full force the first week of July.

Remi plans to utilise the remainder of the summer shows and smaller contests to get his riding back to the level he expects. If that works, then he will throw everything he has at winning every contest he rides in for the remainder of 2010. (Even though he sits 74 points behind the current World Championship leader Libor Podmol, Remi knows that with 6 rounds gone and about 8 rounds left to go, his chances of reeling in the leaders and clinching his third straight world title are very slim – but anything is possible - with a bit of luck and a lot of winning, he just might be able to pull something out of the bag)

Whilst the F.I.M. World Championship resumes in Cologne Germany on the 9th October, Remi was also hoping to get a wildcard invite for either "Xgames" or "Xfighters" this summer which, based on his riding form up to the crash, looked highly likely. He hopes that riding his heart out in the next few months, might still get him a shot at one of the "X" events in 2010.
Time will tell.


Support us: Like and Share it!

Video of the month

Facebook /FORTY8Mag

Partner