ETNIES STEPS UP FMX TEAM, SIGNING FOUR NEW RIDERS
June 3, 2010 (Lake Forest, CA) - etnies proudly welcomes FMX riders Rob Adelberg, Levi Sherwood, Jackson Strong and Dany Torres to the etnies moto-x team. "We're amped to increase our team by four. The talent and diversity these guys have will fit in perfectly with our team and bring in new elements of style," said Matt Chapman, etnies motocross team manager.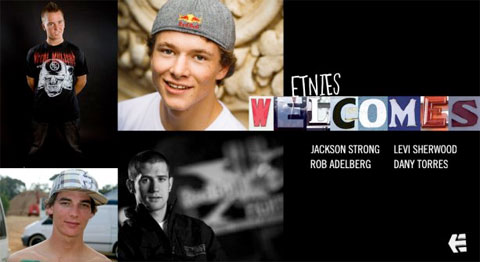 As an Australian native and pro moto-x rider of more than six years, Rob Adelberg has ridden all over the world conquering first place wins in 2007's Red Bull X-Ray in Australia and the 2009 ASA Team Event in San Diego, Calif. He's been featured in Racer X, Transworld Motocross, Freerider MX and Dirt Action.
New Zealander Levi Sherwood is only eighteen years-old and has already placed first in the 2009 Red Bull X-Fighters Mexico City, 2008's Western Australian FMX Champs, three Australasian FMX Champ events and the Demon Gravity Games Big Air in 2007. Sherwood has a knack for consistently pulling incredible tricks that led him to all these wins at a young age.
As the youngest person ever to flip a full-size bike Jackson "Jacko" Strong, set his mind to accomplishing big goals at a young age. Coming out of Australia, Jacko was recently the first person to land a ramp-to-ramp front flip when he was riding in the Crusty Demons show in Australia last month. Watch out for this aggressive Australian as his main goal is to take over the Freestyle world.
Hailing from Spain, Dany Torres' bag of FMX tricks is deep. He has been riding on a weekly basis since receiving a battery-powered bike as a Christmas gift when he was 3 years-old. Dany spent most of his childhood racing in the Spanish MX and SX championships, and started
focusing on FMX at 15. In 2007, he won his first X-Fighters Mexico and placed third in the overall series. Today Dany is riding in as many events as possible and having fun doing it.
For additional info on the etnies Moto team, stay tuned to etnies.com


Support us: Like and Share it!

Video of the month

Facebook /FORTY8Mag

Partner