Steve Mini does tandem jump
with Austria's star TV presenter, Vera Russwurm
On Monday Australian Freestyle Motocross pro Steve Mini pulled off the first ever FMX tandem jump in Austria, with TV presenter Vera Russwurm riding pillion. Venue for this perilous jump, which Steve and Vera could practice together only once, was the Ernst-Happel-Stadium in Vienna. The NIGHT of the JUMPs press conference, which provided the setting and occasion for the jump, was attended by many fans and representatives of the press.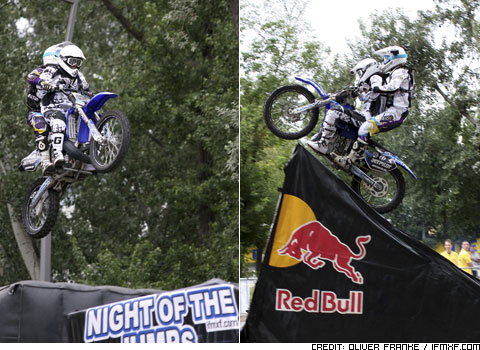 Austria's star presenter Vera Russwurm was not content reporting on the sidelines of the action. For her "Vera exklusiv" programm she hopped on board with Steve Mini, becoming the first woman to complete a tandem jump, the two riders flying 15 meters on the 250cc Yamaha before landing safely. "I wasn't nervous in the slightest," said Vera Russwurm after the jump. "Steve's calmness transmitted to me."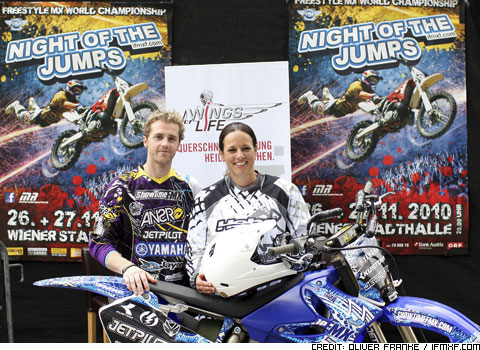 Steve Mini first competed in Freestyle Motocross in 2001 and has gone on to become one of the world's best FMX riders. The 27-year-old is a regular face on the Crusty Demons Tour, showed off his skills alongside Travis Pastrana in the latter's Nitro Circus Tour Premiere and has been in the line-up at NIGHT of the JUMPS for the last two years. The highlight of his career so far was his triumph at NIGHT of the JUMPS / FIM Freestyle MX World Championships in Namibia last year. Steve Mini will also compete in the first FMX World Championship heats to be held in Vienna in the Stadthalle on 26th and 27th November.

More information about the Night of the Jumps: www.ifmxf.com


Support us: Like and Share it!

Video of the month

Facebook /FORTY8Mag

Partner