Josh Sheehan wins the 2011 'Unit Farm Jam'
natural terrain FMX competition
Press Release by Steve Sommerfeld, 7th March 2011
Western Australia's Freestyle Motocross star Josh Sheehan has celebrated his 25th birthday in style, by taking out the win at the Unit Farm Jam competition held in the foothills of scenic Otapiri Gorge in the south of the Southern Island of New Zealand, and also securing the 'Best Trick' with his 360 degree rotation in Freestyle Moto.
The Carlton Dry Honda FMX team rider, Sheehan dominated the course and made the natural terrain jumps seem effortless on his way to the rider-judged victory on a course packed with tight jumps, hips and bowls the 150 foot, 4th gear step up jump over the spectator's hill.
The two thousand-strong crowd were treated to a tough competition between Valyside's Sheehan, local New Zealand riders Levi Sherwood and Nick Franklin and the natural terrain stalwart, Matt Schubring from Australia. In the end, it was Sheehan's ability to perform his best tricks over the varying ramps and dirt jumps that sealed the victory for the 25 year old.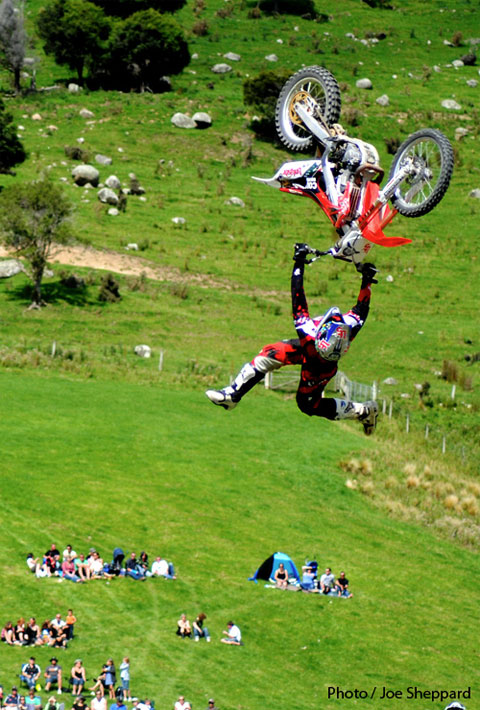 Sheehan performed silky smooth 360's and Lazy-boy back flip's over the ramp section and also Heel-clicker Back Flip's over the dirt jump in the double-double section of the course. Sheehan was also able to perform tricks off many of the smaller technical jumps on the course with style which earned him the win from his peers in the rider judged system.
"The competition was very relaxed and it was one of the best competition's I've ridden in" Sheehan said. "The Farm Jam is more about riding on a natural terrain course and having fun. The crowd can see when a rider is feeling it and it felt good to be able to perform freely in the three rounds" Sheehan continued.
Sheehan had just finished his first tour with the Nitro Circus Live team throughout New Zealand the previous weekend, and stayed on to compete at the Farm Jam held near Invercargill. "It was good to have a week off after a pretty full-on tour with Travis Pastrana and the shows. I had time to chill out and it was felt great to pick up the win here at Farm Jam before I head back to Australia next week for the start of the next Nitro Circus Live tour".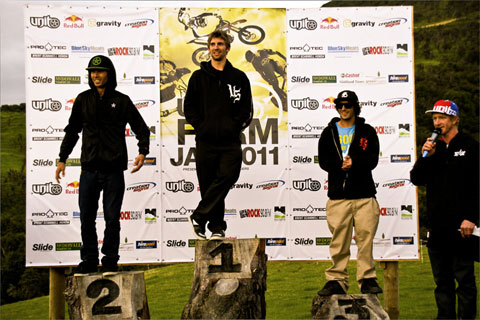 Josh will perform in the Nitro Circus Live tour of Australia regional throughout March and April and start his assault on the FIM IFMXF World Championships in Europe in May 2011.
Josh Sheehan is supported by Carlton Dry Honda racing team, Valyside and Dragon.


Support us: Like and Share it!

Video of the month

Facebook /FORTY8Mag

Partner