Suzuki NIGHT of the JUMPS Krefeld
French Double beat the whole German FMX elite at the Suzuki NIGHT of the JUMPs in Krefeld
Krefeld, 26th April 2008: Both French riders Remi Bizouard and Romain Izzo took the first two places at the Suzuki NIGHT of the JUMPs in Krefeld. Libor Podmol got the "Bronce medal".
On saturday the KönigsPalast in Krefeld turned into a Freestyle Motocross arena. At the Suzuki NIGHT of the JUMPs 12 FMX heros out of six nations fought for points of the IFMXF world ranking. The field of riders consisted X Games contender Remi Bizouard and Romain Izzo (both FRA), the Swedish Riders Fredrik Johansson and Daniel Bodin, Massimo Bianconcini from Italy, the 2 times Vice World Champion Libor Podmol, Oystein Kjorstad (NOR) and the entire German FMX armada with Busty Wolter, Fabian Bauersachs, Lukas Weis, Freddy Peters and Hannes Ackermann.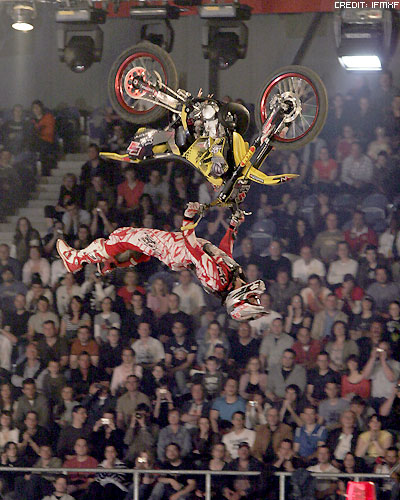 From the five German riders only one made it into the final, Suzuki Teamrider Busty Wolter. Munichs Lukas Weis had to end his run after his third trick. Fabian Bauersachs from Rödental had a Deadsailor, so he could not make it into the final. Freddy Peters from Berlin did a good run with his new Longdistance Flips and ended up on 9th position. Hannes Ackermann from Thüringen got 11th.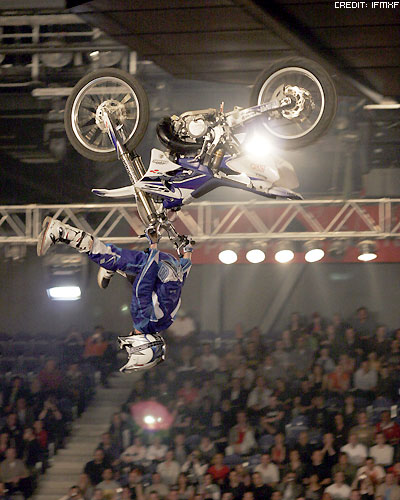 French Romain Izzo won the qualification. Remi Bizouard, Libor Podmol, Massimo Bianconcini, Daniel Bodin and Busty Wolter followed him into the final.
In the Whip contest this day Italian Massimo Bianconcini turned out to be the best "Whipper". Lukas Weis won the Highest Air contest with 7,5 meter.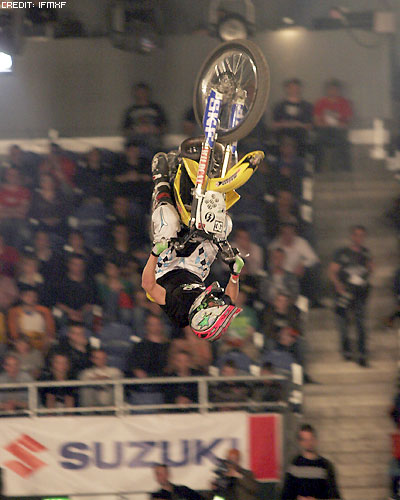 The Krefeld final got to a Backflip battle. Daniel Bodin did several Backflip combos, but he missed one trick and ended up on 6th position. Busty Wolter did the biggest Superflip in his career and got 5th. Massimo Bianconcini with Heelclicker and Superflips took 4th position. Libor Podmol did Cliffhanger and Underflips which brought him the bronce medal.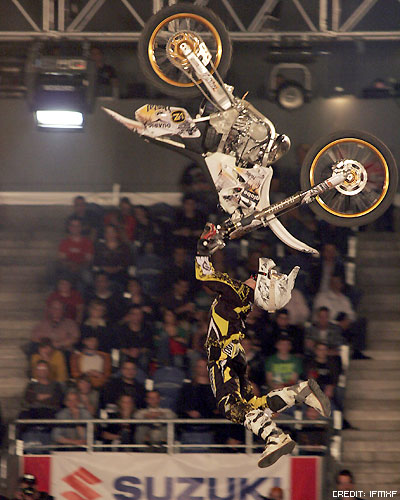 But the riders of the day were both French Remi Bizouard and Romain Izzo. Bizouard did his Ruler flip in the Double-Up, Izzo again his Shaolin Flip as last trick. Only with 4 points Bizouard was ahead and won the Suzuki NIGHT of the JUMPs in the Krefeld KönigsPalast.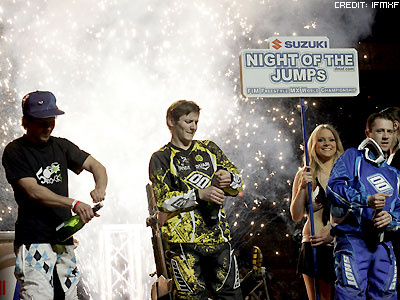 On May, 16th and 17th Mai the IFMXF go on. At the Suzuki NIGHT of the JUMPs in Basel/Switzerland the rounds 4 and 5 of the FIM Freestyle MX World Championships take place. Next contest in Germany will be the Suzuki NIGHT of the JUMPs in Hamburg on May 24th.

FACTS Suzuki NIGHT of the JUMPs
Krefeld, 26th April 2008

Final
1. Remi Bizouard FRA FFM Yamaha 318 Points
2. Romain Izzo FRA FFM Yamaha 314 Points
3. Libor Podmol CZE ACCR Suzuki 305 Points
4. Massimo Bianconcini ITA DMSB Honda 299 Points
5. Busty Wolter GER DMSB Suzuki 287 Points
6. Daniel Bodin SWE DMSB KTM 205 Points

Qualification
1. Romain Izzo FRA FFM Yamaha 263 Points
2. Remi Bizouard FRA FFM Yamaha 262 Points
3. Libor Podmol CZE ACCR Suzuki 252 Points
4. Massimo Bianconcini ITA DMSB Honda 251 Points
5. Busty Wolter GER DMSB Suzuki 242 Points
6. Daniel Bodin SWE DMSB KTM 241 Points
7. Fabian Bauersachs GER DMSB KTM 232 Points
8. Fredrik Johansson SWE SVEMO Suzuki 217 Points
9. Freddy Peters GER DMSB Suzuki 210 Points
10. Oystein Kjorstad NOR NMF KTM 202 Points
11. Hannes Ackermann GER DMSB KTM 176 Points
12. Lukas Weis GER DMSB Suzuki 125 Points

Whip Contest
1. Massimo Bianconcini ITA DMSB Honda
2. Remi Bizouard FRA FFM Yamaha
3. Busty Wolter GER DMSB Suzuki
4. Romain Izzo FRA FFM Yamaha

Highest Air Contest
1. Lukas Weis GER 7,50 Meter
2. Libor Podmol CZE 7,20 Meter
3. Daniel Bodin SWE - Meter