RED BULL X-FIGHTERS AT RIO
Samba on Two Wheels – Stenberg Grabs Win in Rio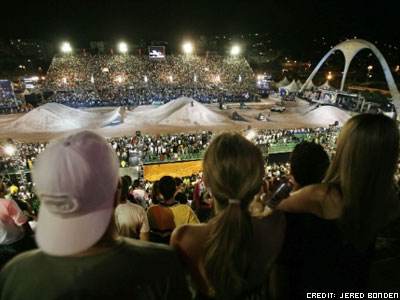 Red Bull X-Fighters Perform to 30,000 Fans in Brazil's Carnival City
Jeremy Stenberg (USA) soared to victory on Saturday with a spectacular performance at the second event of Red Bull X-Fighters 2008. Mat Rebeaud from Switzerland had to settle for second place after a hard-fought final round, with Australian Robbie Maddison claiming third in the former capital city's legendary Sambadrome. Andre Villa (NOR) remained unhurt after crashing out.
A total of nine kickers spread out along a 96-metre course proved a real challenge for the world's FMX elite, a fact confirmed by winner Stenberg shortly after an emotional victory ceremony:



"Unbelievably difficult. Some of the riders here were really afraid of the course. This victory means a great deal to me. I have never seen such a challenging course. One trick went completely wrong and I thought that it was all over, but Rebeaud made a mistake too."

Despite his disappointment, Swiss high flyer Rebeaud was stoic after the final: "That's sport for you. I had a big mistake in the final and that probably cost me victory. But it could have been a lot worse. I'm glad I didn't crash."


A heavy fall by Andre Villa (NOR) at the quarter final stage brought the vibrant crowd to a hushed silence, but the Norwegian walked away unhurt.

"I go to the gym five times a week and the muscles paid off today. I landed on my stomach, but I'll be back on the bike,"

commented Villa shortly after his fall. Backflips, heelcrackers and superman seatgrabs were among the incredible tricks on show to a capacity crowd in the city's legendary Sambadrome, where two large dirt jumps and a 'six pack' (three jumps in a row) catapulted the riders
to dizzying heights.
The 30,000 FMX fans were on their feet as four local riders and eight members of the international FMX elite fought it out for victory. "I can't imagine it was even louder here during the Carnival in February," beamed winner Stenberg after stealing the show.
| | |
| --- | --- |
| | After two races Mat Rebeaud (185 points) heads the overall riders' classification, with a narrow lead of just 30 points over Jeremy Stenberg (155 points). After Rio de Janeiro the Red Bull X-Fighters move stateside to Texas, USA. On July 14 the rodeo arena in Fort Worth will host the third of the tour's five stops before the most breathtaking freestyle motocross series in the world returns to Europe with a stop in Wuppertal (GER) before the traditional grand finale in Madrid (ESP). |
Red Bull X-Fighters Rio de Janeiro

Final Results
1. Jeremy Stenberg (USA/Yamaha)
2. Mat Rebeaud (CH/KTM)
3. Robbie Maddison (AUS/Honda)
4. Dany Torres (ESP/KTM)
5. Andre Villa (NOR/Suzuki)
6. Eigo Sato (JPA/Yamaha)
7. Ronnie Faisst (USA/Honda)
8. Brice Izzo (FRA/Yamaha)
9. Gilmar Flores (BRA/Yamaha)
10. Gian Bergamini (BRA/Yamaha)