Story and pics by Oliver Franke

Basel, 17th Mai 2008: André Villa dethrones Mat Rebeaud –
The Norway FMX pro beat the Swiss X Games Silver medal winner at the FIM Freest6le MX World Championships in Basel
Basel, 16th Mai 2008: André Villa, leader of the FIM Freestyle MX World Championships dethroned Mat Rebeaud at the Suzuki NIGHT of the JUMPs in Basel. In his homeland the Swiss X Games Silver medal winner had to give the win to Norway Villa, who now have three first places in the World Championship series on his account. Romain Izzo, second in the FMX World Cup reached only 4th place. Third got Remi Bizouard who came close to Rebeaud. Three out of five judges saw Bizouard ahead of Rebeaud.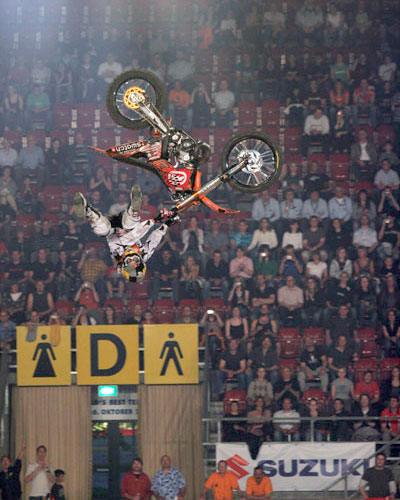 For the 4th round of the FIM Freestyle MX World Championship the crowd gone crazy in the St. Jakobs arena in Basel. They wanted to shout there three riders into the final. But only Rebeaud made it. Gantner and Gut were too nervous at their first IFMXF participancy. But not only the newcomers had problems. Longtime IFMXF rider Fredrik Johansson as well as Jack Rowe had a few dead sailors and missed the final.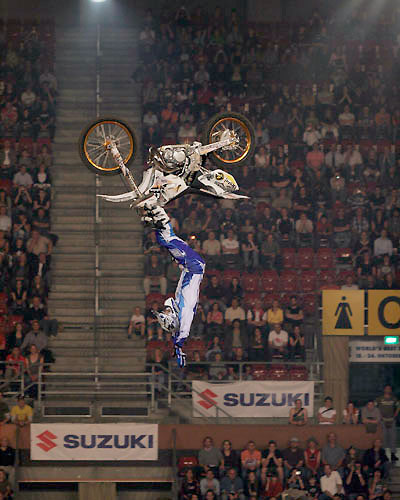 In this huge field of worldclass FMX riders SuzukiTeamrider André Villa, Remi Bizouard, Romain Izzo, Greg Hartman and Fabian Bauersachs followed Rebeaud into the final. Vice World Champion Libor Podmol had to pass injured. German Lukas Weis were injured too, but started and missed the final by only one point. But he won the Whip contest. After the break the crowd saw a sensation with Jack Rowe winning the Highest Air contest in his first time ever step-up try. He jumped over 8,60 meters.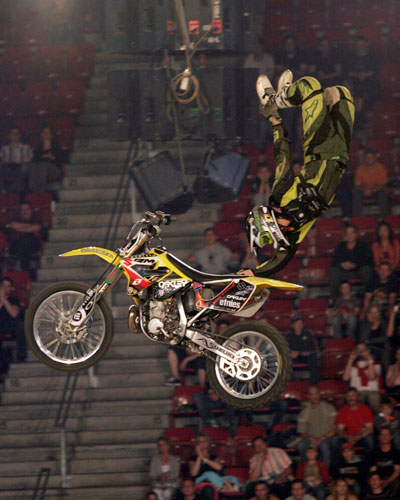 For the final the riders kept some tricks. First rider was Fabian Bauersachs who did a good run with tricks like Helicopted Tsunami. He reached 5th posistion. Greg Hartman did his best IFMXF run in the qualification and made it first time to an IFMXF final. He wanted to reach the podium, but crashed his Underflip. So he ended up 6th. Romain Izzo pushed in his final run with his Shaolin Flip in the double-up. But this day it was only enough for a 4th place.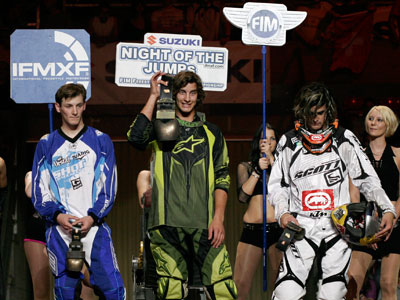 Well motivated Remi Bizouard started his run. He wanted to beat his friend Mat Rebeaud and did Cliffhanger Flip, Ruler Flip and other crazy stuff. Finally he failed by only one point. With his new Switchblade Flip and a Tsunami Flip in not full extansion Rebeaud landed on second place. But this day Rebeaud could not beat André Villa. He did a massive run and won with 9 points ahead.


FACTS Suzuki NIGHT of the JUMPs –
FIM Freestyle MX World Championships – Round 4
Basel, 16th May 2008

Results Final
1. André Villa NOR RFME Suzuki 321 Points
2. Mat Rebeaud SUI FMS KTM 312 Points
3. Remi Bizouard FRA FFM Yamaha 311 Points
4. Romain Izzo FRA FFM Yamaha 296 Points
5. Fabian Bauersachs GER DMSB KTM 248 Points
6. Greg Hartman USA DMSB Yamaha 115 Points

Results Qualification
1. André Villa NOR RFME Suzuki 267 Points
2. Mat Rebeaud SUI FMS KTM 264 Points
3. Romain Izzo FRA FFM Yamaha 251 Points
4. Remi Bizouard FRA FFM Yamaha 247 Points
5. Greg Hartman USA DMSB Yamaha 223 Points
6. Fabian Bauersachs GER DMSB KTM 196 Points
7. Lukas Weis GER DMSB Suzuki 196 Points
8. Jack Rowe USA DMSB Suzuki 194 Points
9. Bartosz Oglaza POL PZM Suzuki 174 Points
10. Vivian Gantner SUI FMS Suzuki 82 Points
11. Mario Gut SUI FMS Suzuki 72 Points
12. Fredrik Johansson SWE SVEMO Suzuki 25 Points
13. Libor Podmol CZE ACCR Suzuki 0 Points

Results Whip Contest
1. Lukas Weis GER DMSB Suzuki
2. Remi Bizouard FRA FFM Yamaha
3. Greg Hartmann USA DMSB Yamaha
Results Highest Air Contest
1. Jack Rowe USA 8,60 Meter
2. Lukas Weis GER 8,60 Meter
3. Bartosz Oglaza POL 8,30 Meter

FIM Freestyle MX World Championships
Ranking (after 4th contest)
1. André Villa NOR RFME Suzuki 76 Points
2. Romain Izzo FRA FFM Yamaha 64 Points
3. Remi Bizouard FRA FFM Yamaha 54 Points
4. Jack Rowe USA DMSB Suzuki 43 Points
5. Fredrik Johansson SWE SVEMO Suzuki 40 Points
6. Fabian Bauersachs GER DMSB KTM 39 Points
7. Greg Hartman USA DMSB Yamaha 38 Points
8. Lukas Weis GER DMSB Suzuki 33 Points
9. Libor Podmol CZE ACCR Suzuki 28 Points
10. Bartosz Oglaza POL PZM Suzuki 27 Points
11. Mat Rebeaud SUI FMS KTM 18 Points
12. Oystein Kjorstad NOR NMF KTM 15 Points
13. Martin Schenk AUT OSK Yamaha 9 Points
14. Kota Kugimura JAP Yamaha 8 Points
15. Gilles Dejong BEL FMB KTM 7 Points
16. Eugenio Zafra ESP RFME KTM 6 Points
17. Vivian Gantner SUI FMS Suzuki 6 Points
18. Mario Gut SUI FMS Suzuki 5 Points