Story and pics by Oliver Franke

Basel, 17th Mai 2008: The Swiss FMX hero Mat Rebeaud stroke back and won the 2nd day of the Suzuki NIGHT of the JUMPs in Basel ahead of French Remi Bizouard and André Villa from Norway. So Bizouard climbed to the 2nd position in the FIM Freestyle MX World Championship, while André Villa strengthens his lead.
The 5th contest of the FIM Freestyle MX World Championship became the battle of Basel. And the 7.000 people made the riders blood boil. The athmosphere and the challenging track made them nervous. So crashed Bartoz Olgaza after his Underflip attempt and was brought to hospital. Luckily he is ok.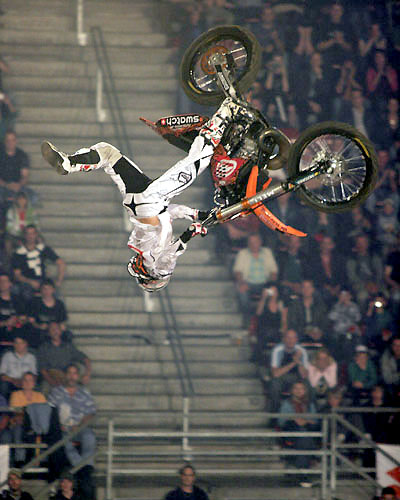 Same destiny came to Romain Izzo, who was to short and crashed onto the landing hill. He broke his feet. Also Swiss Mario Gut tasted dirt. But still it was not enough. Libor Podmol and Jack Rowe bounced after landing of their last trick. So finally Mat Rebeaud, André Villa, Remi Bizouard, Fredrik Johansson, Greg Hartman and Jack Rowe made it into the final.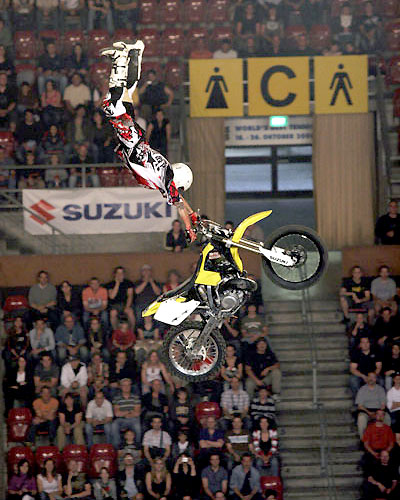 Here the riders wanted to push even more. But most of them were tired, because of the World Championship contest on friday. First in the final was Fredrik Johansson, who crashed last year hardly in Basel. He had problems on Friday but this day he could face his focus on the track and ended up 4th. Jack Rowe had to suffer pain from his earlier crash, but started good. In his run he ran out of steam. He had to end his run and did the double-up only for the audience. But this was a huge Tsunami Flip. Finally he got 6th.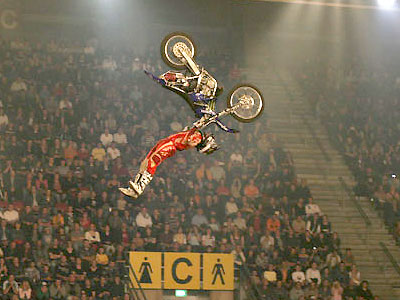 Greg Hartman was tired too. He did all tricks, but crashed after the landing of his Switchblade Flip. So he reached only 5th position.
Then the playground was set for the "Fantastic Three" and heros of the friday contest. Remi Bizouard started and with Cliffhanger Flip, Scorpion Tsunami and Ruler Flip set the pace. André Villa did hard tricks in his program with Underflip, 1-Hand Can Flip to 1-Hand-Landing or a Superflip in Tsunami style. But he pulled himself back to ride safe, after the crashs of the others. So it was up to local hero Mat Rebeaud to push Bizouard from the hotseat. And he did all hard tricks he has right now. With a spectacular run he won the 2nd day of the Suzuki NIGHT of the JUMPs Basel and the crowd gone crazy and celebrated him.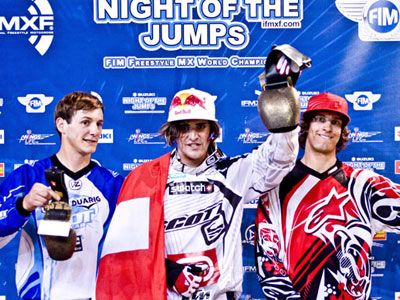 Next saturday the riders will come to Hamburg for the Suzuki NIGHT of the JUMPs (International Meeting). Then the IFMXF take it's summerbreak. Next points of the FIM Freestyle MX World Championships will be given on 27th September at the Suzuki NIGHT of the JUMPs in Beograd.


FACTS Suzuki NIGHT of the JUMPs – 2nd day
FIM Freestyle MX World Championships – Round 5
Basel, 17th May 2008


Final
1 Mathieu Rebeaud SUI 312.0
2 Rémi Bizouard FRA 308.0
3 André Villa NOR 306.0
4 Fredrik Johansson SWE 240.0
5 Greg Hartman USA 233.0
6 Jack Rowe USA 165.0
Highest Air
1 Jack Rowe USA 8.6 m
2 Mathieu Rebeaud SUI 6.5 m
3 Greg Hartman USA 5.5 m
Qualification
1 Mathieu Rebeaud SUI 279.0
2 André Villa NOR 262.0
3 Rémi Bizouard FRA 253.0
4 Greg Hartman USA 243.0
5 Jack Rowe USA 242.0
6 Fredrik Johansson SWE 228.0
7 Fabian Bauersachs GER 215.0
8 Libor Podmol CZE 200.0
9 Vivian Gantner SUI 118.0
10 Romain Izzo FRA 92.0
11 Mario Gut SUI 37.0
12 Bartosz Oglaza POL 29.0