Suzuki NIGHT of the JUMPS Hamburg
Story and pics by Oliver Franke
Hamburg, 24th May 2008: After two years absence the Freestyle Motocross elite came to Hamburg. In a spectacular final French Remi Bizouard won the Suzuki NIGHT of the JUMPs ahead of IFMXF premier Brody Wilson and Czech Libor Podmol. But mostly the crowd celebrated Norway Oystein Kjorstad who ended his FMX career after seven years and more than 50 IFMXF contests.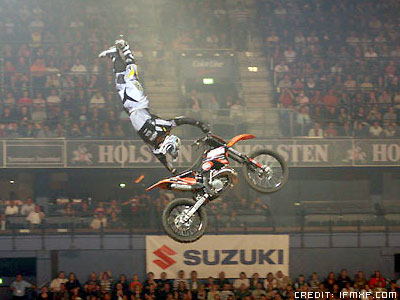 The IFMXF invited to the Color Line Arena in Hamburg for the Suzuki NIGHT of the JUMPs and 13 riders out of seven nations came to fight for points of the IFMXF world ranking. Amongst the riders Dubai X Games winner Greg Hartman (USA), Jack Rowe (USA) as well as US-Boy Brody Wilson in his first time on the IFMXF track. Furthermore French Remi Bizouard, current 2nd in the FIM Freestyle MX World Championships, Brice Izzo, Vice World Champion Libor Podmol (CZE), Fredrik Johansson from Sweden, Oystein Kjorstad (NOR) and Italian Massimo Bianconcini started.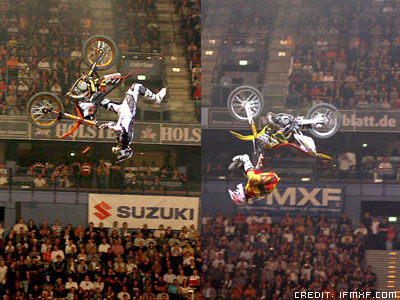 For the team Germany FMX pro's Busty Wolter, Fabian Bauersachs, Freddy Peters and Hannes Ackermann completed the field or riders.In this huge field of world class athletes the riders had to give their best already in the qualifying. Remi Bizouard, Libor Podmol, Brody Wilson, Greg Hartman, Fredrik Johansson and Massimo Bianconcini made it into the final. No one of the Germans came under the best six'. But we saw the Superman Flip premier of Hannes Ackermann and a No-Hand-Flip of Fabian Bauersachs. US-Boy Jack Rowe did not reach the final too. He was one of the best in the trainings session, but in the contest he did not good and stopped after a Deadsailor.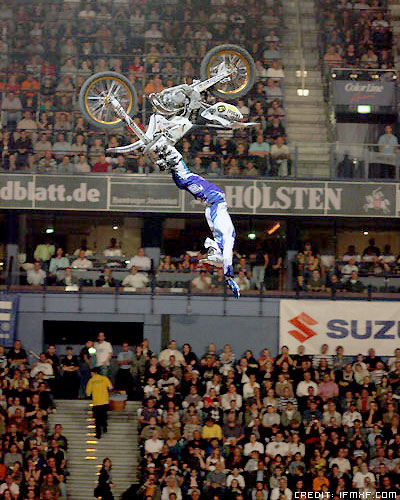 In the break the people saw the ADAC Fahrsicherheitszentrum Lüneburg Whip and Snow Funpark Wittenburg Highest Air contest. Best "Whipper" was Italian Massimo Bianconcini. Libor Podmol won the Snow Funpark Wittenburg "Highest Air" with 8,80 meters.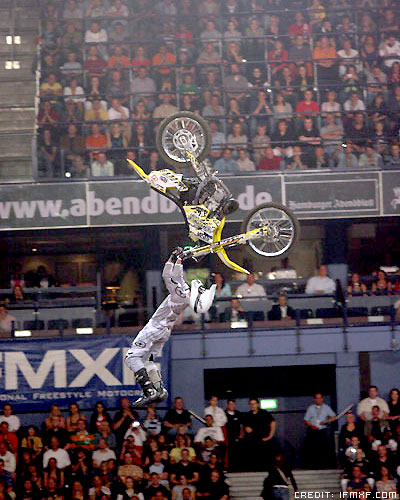 The fabulous six in the final gave everything and the crowd celebrated them. Spectacular tricks like Switchblade Flip from Greg Hartman, Cilffhanger Flip from Libor Podmol, Superman Flip from Brody Wilson and Massimo Bianconcini, Cordova Flip to 1-Hand-Landing by Fredrik Johansson and the Ruler Flip from Remi Bizouard were presented first time ever on Hamburg ground. Finally Bizouard won ahead of IFMXF premier Brody Wilson and Libor Podmol, who missed a trick.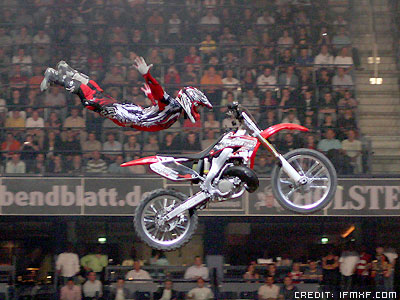 Now the IFMXF takes a break. On 19th/20th July the FMX athletes will meet in Athens for the next Suzuki NIGHT of the JUMPs. The German fans are looking forward to the 11th October. In Cologne arena the next points of the FIM Freestyle MX World Championships will be given.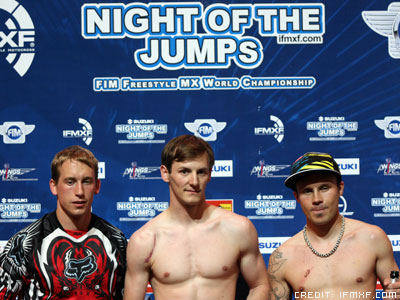 FACTS Suzuki NIGHT of the JUMPs
Hamburg, 24th May 2008

Final
1 Rémi Bizouard FRA 324.0
2 Brody Wilson USA 294.0
3 Libor Podmol CZE 292.0
4 Massimo Bianconcini ITA 290.0
5 Fredrik Johansson SWE 288.0
6 Greg Hartman USA 272.0

Qualification
1 Rémi Bizouard FRA 271.0
2 Libor Podmol CZE 262.0
3 Massimo Bianconcini ITA 256.0
4 Brody Wilson USA 247.0
5 Fredrik Johansson SWE 243.0
6 Greg Hartman USA 233.0
7 Brice Izzo FRA 227.0
8 Fabian Bauersachs GER 225.0
9 Sebastian Wolter GER 216.0
10 Frederik Peters GER 192.0
11 Hannes Ackermann GER 160.0
12 Oystein Kjorstad NOR 128.0
13 Jack Rowe USA 48.0

Whip Contest
1 Massimo Bianconcini ITA
2 Rémi Bizouard FRA
3 Sebastian Wolter GER
4 Hannes Ackermann GER

Highest Air Contest
1 Libor Podmol CZE 8.8 m
2 Brice Izzo FRA 8.5 m
3 Brody Wilson USA 7.5 m