Casino Grand Prix FMX Show
Eigo Sato Victorious in Tallinn!
Casino Grand Prix FMX Show, the biggest trick motorbike show in Northern Europe was held at Tallinn Song Festival Grounds on June 7. Several freestyle motocross world stars took part who have not competed in nearby countries before.
Wind conditions at the Song Festival Grounds on the day of the competition as well as a day before it were quite extreme. Luckily, Saturday evening the wind started to subside and drivers were able to have their necessary training.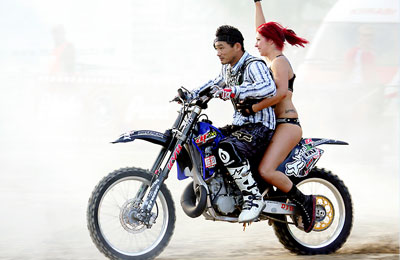 The event lasted a couple of hours and in front of an audience of several thousands, extremists who have had top performances at FMX world championships and also at reputable contests like Red Bull X-Fighters and X-Games gave a powerful performance. For something different, attractive and fierce girls from the group The Fuel Girls warmed the crowd.
While in the first round the 10 men did only warm-up jumps and heated up the crowd, the jam session demonstrated the world's best tricks to the audience. That it was not some hackwork, was demonstrated by the fact that two drivers belonging to the absolute top, Andre Villa from Norway (winner of the 2007 World-cup final) and Petr Pilat from the Czech Republic, both made a mistake on a
difficult trick and fell. Luckily, nothing serious happened to the guys and they continued their performances.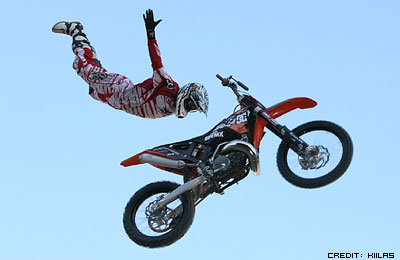 The crowd voted the 2006 world champion and the winner of this year's Red Bull X-Fighters' Mexico phase, Mathieu Rebeaud from Switzerland, Pilat and Eigo Sato who was the first person to perform a backflip in October 2003, from Japan, to take part in a super exciting final, where the guys showed their best tricks. Pilat's performance was interrupted for a while due to a fall but despite that he earned praise from the crowd. Finally, Sato, who demonstrated very aggressive but also extremely style-pure tricks in every round, took a close victory before Rebeaud.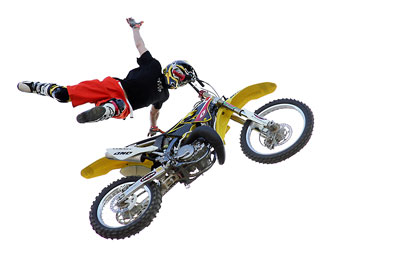 The likeable Japanese was sincerely surprised and very happy about his victory and promised to visit Estonia again. Overall, the other drivers were also satisfied with the event, even though the wind conditions before the competition had made them to a certain degree doubt the occurrence of the event. Despite that, the men
said the event went smoothly and even though the soil was a little soft, it held up nicely until the end. As a thankyou in the end, the men drove in a "train", where all of them drove close to each other and demonstrated their best tricks all at the same time.