RED BULL X-FIGHTERS 2008
RED BULL X-FIGHTERS in Texas/USA
Rebeaud Rodeos to Victory at Red Bull X-Fighters in Texas

Mat Rebeaud (CH) flew to victory in front of 20,000 fans at the third stop of Red Bull X-Fighters 2008 in Fort Worth, Texas. Twelve members of the FMX world elite brought the historic Stockyards district of the city to boiling point cowboy style on their high-octane steeds.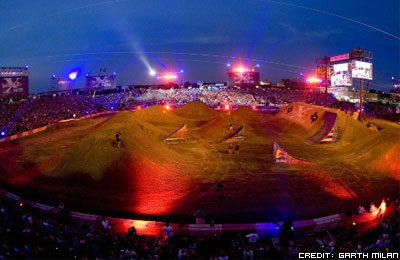 Hot on the heels of winner Rebeaud were Jeremy Stenberg (USA) and Jeremy Lusk (USA), who claimed second and third place respectively. After being forced to concede defeat in the final, Stenberg paid respect to his Swiss colleague: "I am disappointed because I made a mistake, but I have to congratulate Mat. He risked everything and deserved to win. The motto 'Big, Bigger Texas' was omnipresent here and this hard course has left its marks on all the riders."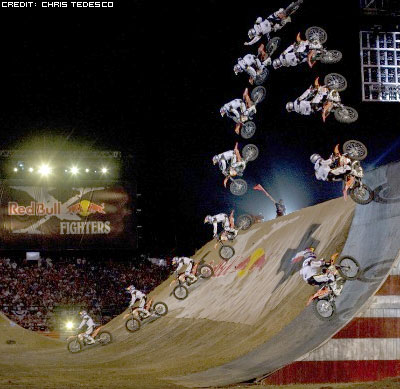 Rebeaud, who won the season opener in Mexico City and eliminated Jeremy Lusk at the semi-final stage here in Texas, could barely believe his victory: "This is my first win in America. I gave it everything on my last jump and if anything had gone wrong I would have paid heavily." The Swiss FMX star pulled a Backflip Superman Indy over the quarterpipe on his last run of the evening. "That was absolutely decisive for the win. I was under massive pressure, but the feeling of relief now is indescribable."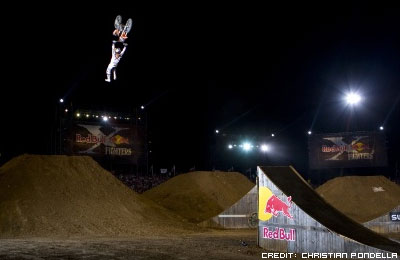 Robbie Maddison (AUS) had to learn the dangers of extreme rodeo riding the hard way in his semi-final against Jeremy Stenberg. The Australian FMX star fell heavily on the huge course featuring seven kickers and a ten-meter-high quarterpipe. "I landed hard after pulling a Backflip Cordova and my kneecap popped out.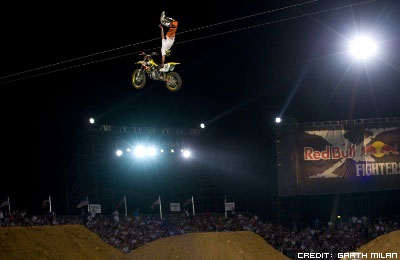 I couldn't bend the joint anymore so I was forced to quit the competition straight away. On the way back to the riders' camp it popped back in on its own. Now I'm really going to go for it at the next Red Bull X-Fighters event."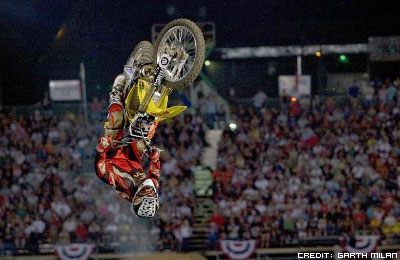 Following the event in Texas, Rebeaud now leads the riders' overall
classification with 280 points, followed by Stenberg (235) and Maddison (165).

Final Result Red Bull X-Fighters Fort Worth / USA

Mat Rebeaud (CH)
Jeremy Stenberg (USA)
Jeremy Lusk (USA)
Robbie Maddison (AUS)
Thomas Pages (FRA)
T aka Higashino (JPA)
Andre Villa (NOR)
Myles Richmond (USA)
Chuck Carothers (USA)
Charles Pages (FRA)
Ronnie Renner (USA)
Todd Potter (USA)
CLICK ON THE FOLLOWING LINK TO VISIT THE WEBSITE AND BE UP TO DATE WITH THE RED BULL X-FIGHTERS 2008: http://www.redbullxfighters.com



Support us: Like and Share it!

Video of the month

Facebook /FORTY8Mag

Partner