Ronnie Renner Sets Motorcycle Quarterpipe "Highest Air" World Record At Red Bull Experiment in Santa Monica
Jump of 59 feet 2 inches caps Red Bull Experiment's Record-Setting Evening on Santa Monica Pier

Santa Monica, Calif. (July 11, 2008) – Motocross superstar Ronnie Renner established a new Guinness World Record - highest air ever on a motorcycle quarterpipe - on the world famous Santa Monica Pier, jumping his motorcycle 59 feet 2 inches into the night sky in the third edition of the Red Bull Experiment. More than 20,000 spectators gathered on the pier and the beach below to witness the history-making spectacle. Pushing limits and breaking boundaries is at the core of the Red Bull Experiment, which showcases the world's best athletes performing world-first, "experimental" sporting feats.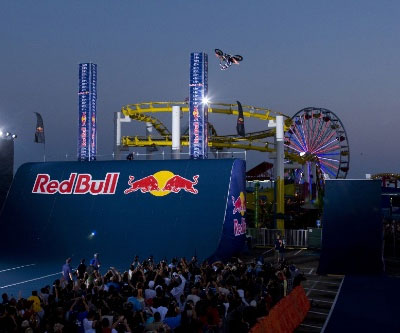 "Everything was absolutely perfect tonight," said Renner. "I'm totally blown away that I went over 59 feet. Hopefully my Red Bull Experiment was the baddest one ever; it's a great series and I'm glad I'm a part of it. I just really can't believe so many fans came out to support me."

During Renner's history-making evening, he planned five jumps, but after reaching a plateau of 54 feet 7 inches on his third attempt (of five), he was not satisfied and surprised the crowd with a sixth and final attempt, where he soared a mind-boggling 59 feet 2 inches, which will be submitted to Guinness for certification.

The progression of Renner's jumps is as follows:

Jump 1) 45 feet 9 inches
Jump 2) 50 feet 6 inches
Jump 3) 54 feet 7 inches
Jump 4) 52 feet 9 inches
Jump 5) 53 feet 2 inches
Jump 6) 59 feet 2 inches (submitted to Guinness Book of World Records)

Watch the video clip of the jump here

"I went way past my goal of 50 feet," he said. "I only planned five jumps, but the last one was for the fans. It was all or nothing. I went higher than I expected and felt like a human lawn dart, but I'm glad I made it five feet higher and rode away to talk about it."

The custom quarterpipe and landing ramp used by Renner were designed and built specifically for Renner's Red Bull Experiment. The ramp was modeled on the traditional dirt-based quarterpipe design, and built to specifications calculated from a dirt test site. Fabricated from galvanized steel and plywood, the next generation modular system allows maximum versatility of transport and set-up. Designed and built by Jack Murphy Productions from a Dane Herron Industries concept, the quarterpipe landing ramp measures 64 feet wide and 25 feet tall. The ramp is the first of its kind and took approximately 24 hours to set up on the pier.

Renner's jump was the third chapter of the Red Bull Experiment, following the record-shattering performances of fellow motocross sensation Robbie Maddison and BMX star Kevin Robinson. Maddison jumped the length of a football field in front of thousands on New Year's Eve, clearing 322 feet at the Rio All-Suite Hotel & Casino in Las Vegas. On June 12, Robinson soared 54 feet above the ground in New York's Central Park to set the BMX big air world record.

Renner is a respected freestyle motocross veteran, whose credentials include a gold medal in Step-Up at the 2007 Summer X Games and until recently, the Step-Up world record (35 feet high). Step-Up is similar to a high jump, with riders attempting to jump their motorcycles over bars at ever-increasing heights.

In addition to Renner's record-setting jumps, the evening featured aerial acrobatics by the Red Bull stunt helicopter, from which the Red Bull Air Force team skydived, and the Red Bull MiG fighter jet, as well as musical acts by Carolina Liar and hip hop artist, Wale. The Red Bull Experiment was telecast live on Fox Sports Prime Ticket and was live on EXPN.com.

For more information on the Red Bull Experiment, please visit www.redbullexperiment.com.

For more information on the Santa Monica Pier, please visit www.santamonicapier.org.