RED BULL X-FIGHTERS 2008
RED BULL X-FIGHTERS in Madrid/Spain
Rebeaud Celebrates "Hat-Trick" in Madrid
Red Bull X-Fighters Star Rebeaud Defeats Villa in Final

Swiss rider Mat Rebeaud celebrated a hat-trick of victories at the fourth event of this year's Red Bull X-Fighters with his third win. The FMX star defeated Andre Villa (NOR) in the final of the event in Madrid's legendary Plaza de Toros de Las Ventas bullfighting arena, with Robbie Maddison (AUS) grabbing third place.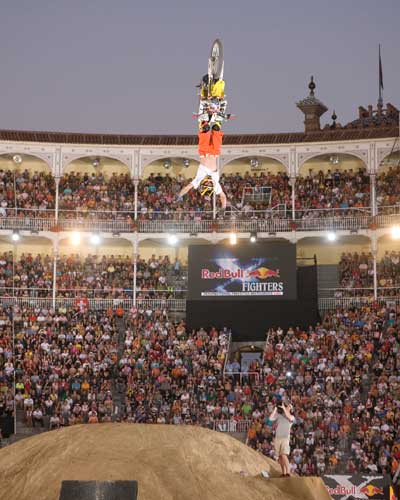 A buzzing 23,000 capacity crowd in the home of the new European Football Champions watched this season's stand-out rider celebrate a hattrick of wins after having claimed the top spot in Mexico and Brazil before. His challenger in the final, Norwegian Andrè Villa, suffered bad fortune in the final as he missed a no-hand landing and ended up stuck between the quarter-pipe and kicker. "The level of riding, the atmosphere, and the result will go down in history. I never would have dreamed of this result at the start of the season," commented a delighted Rebeaud after the final before being carried out of the bullfighting arena on the shoulders of the ecstatic fans.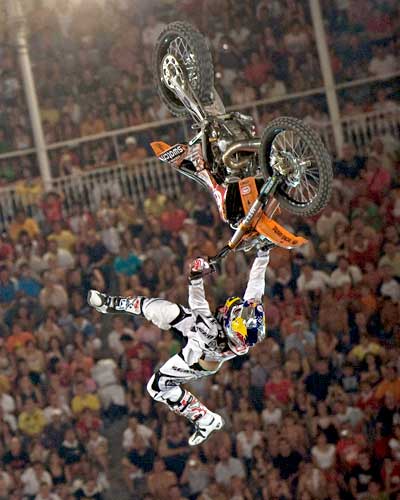 The dozens of chainsaws brought into the arena by local fans fell silent only once when local hero Dany Torres was eliminated at the quarter-final stage by the American Jeremy Lusk who went on to claim fourth spot. While Jeremy celebrated the result in the colours of Spanish champions Real Madrid, Dany was forced to leave the arena in tears wearing the jersey of his namesake and European Championship hero Fernando Torres "It was close. One more judge on my side and I would have beaten Lusk. To lose in that way is bitter, but I have to be pleased with my performance," commented the crowd favourite, trying to put a brave face on it despite the disappointment.




Charles Pagès was fortunate to walk away unscathed from his quarter-final crash. The Frenchman fell heavily while performing a Whip but still managed to leave the arena unaided. Earlier in the evening at the Last 16 stage of the competition Sweden's Fredrik Johansson had managed to pull of a world première. Despite having no chance of progressing to the quarter-finals, Johansson became the first rider in history to stick a '540 for the quarter-pipe'.

Video of Fred Johansson doing a Quarterpipe 540

The next stop of the world's most spectacular freestyle motocross event is scheduled for 16 August in Wuppertal (GER). Mat Rebeaud leads the overall riders' classification ahead of Jeremy Stenberg (injured) and Robbie Maddison.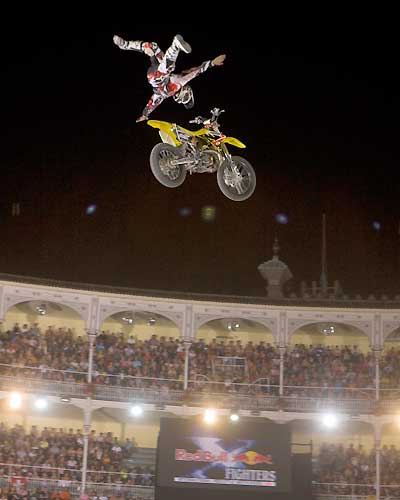 Final Result of Red Bull X-Fighters Madrid:

1. Mat Rebeaud (SUI)
Andre Villa (NOR)
Robbie Maddison (AUS)
Jeremy Lusk (USA)
Dany Torres (ESP)
Thomas Pagès (FRA)
Charles Pagès (FRA)
Petr Pilat (CZE)
Busty Wolter (GER)
Nick de Wit (RSA)
Ronnie Renner (USA)
Fredrik Johansson (SWE)
CLICK ON THE FOLLOWING LINK TO VISIT THE WEBSITE AND BE UP TO DATE WITH THE RED BULL X-FIGHTERS 2008: http://www.redbullxfighters.com