OAKLEY ALVARO INVITATIONAL
It comes to the ending with more than 18000 spectators coming from whole and beyond Belluno province, the most awaited summer event.Indeed OAKLEY ALVARO INVITATIOANAL gathered FMX fans and curious in the main square of Belluno for an evening of sport and enjoyment.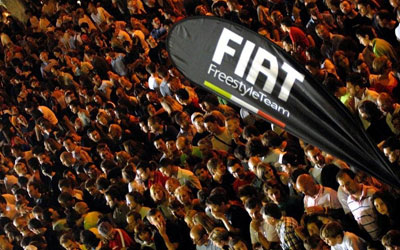 Hot pistons, full throttle, great excitement: 10 of the world's most renowned pilots gave breathtaking emotions to a sea of people with nose up and heart in their mouth, because to FMX specialist a little mistake is enough to fall with their back on the porphyry.

Andre Villa, Tom and Charles Pages, Busty Wolter, Massimo Bianconcini, Vanni Oddera, Maurizio Poggiana, Jader Toninello and Paolo Grana in fact are riders joining world's most famous events.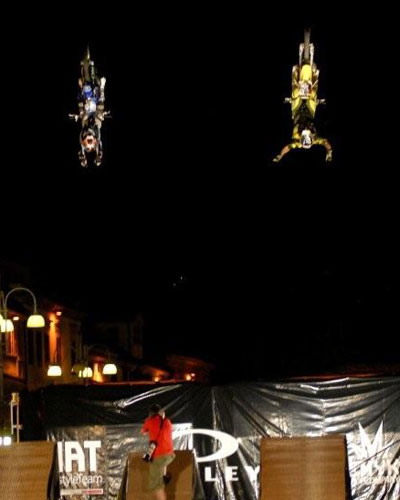 The evening starring Alvaro, to who the event is dedicated, between the teeth couldn't jump because of a physical problem. But his sport colleague and more than ever friends, managed to fill his absence firing up the spectators that pulled for with screams and ovations the scaring tricks at 10 meters from the ground.
Not on a bike, they have been pleased to attend the Kratter brothers, famous FIAT Freestyle Team snowboarders, Kristian Ghedina and the Cross Country Skiing national team.

This year there has been 2 kicker ramps so riders had the opportunity to jump synchronized and land on a single wide ramp, showing double tricks.

All has been realized thanks to world famous brand OAKLEY, FIAT FREESTYLE TEAM, REDBULL, TEREX, MARZOCCHI, SKIPASS, EMOT, VIEL ANTINCENDI, GRUPPO DE BONA and SOMMAVILLA. Also thanks to my friend Ricky Monti, official Da Boot photographer.