RED BULL X-FIGHTERS 2008
RED BULL X-FIGHTERS in Wuppertal / GER
Switzerland's Mat Rebeaud cemented his dominance of the 2008 Red Bull X-Fighters in Wuppertal on Saturday, notching up his fourth victory of the season in the explosive Oetelshofen Quarry. The Swiss freestyle motocross star defeated rival Jeremy Lusk (USA) in the finals on the penultimate stop of this season's Red Bull X-Fighters tour which drew 15,000 spectators.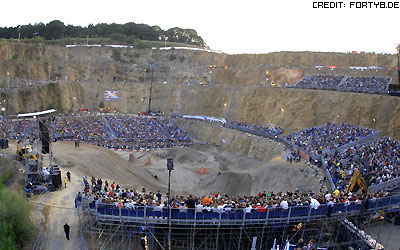 Spain's Dany Torres and Australian Robbie Maddison were third and fourth at the course, located at the bottom of a limestone quarry in Germany's industrial heartland where earth-movers and diggers made way for 100-kg motorbikes and their fearless riders.

Rebeaud's win settled the score with Lusk who beat him at the X-Games in California earlier this month and means the Swiss rider is well on his way to lifting the trophy at the end of the Series.

"You only have one chance here so there is a lot of pressure," said Rebeaud. "I am very happy though. I have had a great season this year: four wins plus second in the X-Games."
German giants Busty Wolter, who reached Round 2, and Fabian Bauersachs, who was knocked out in Round 1, helped whip the Wuppertal crowd into a frenzy during a night of spectacular riding on a tricky, tightly-arranged track that riders said was the toughest so far this year.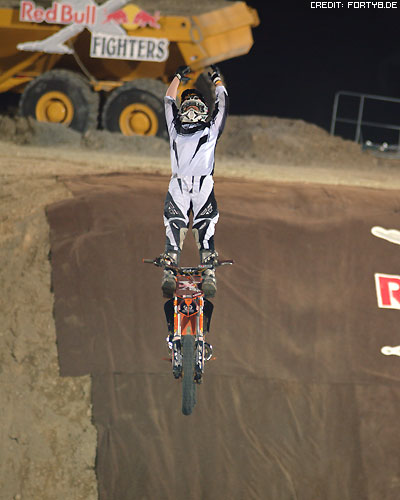 Rebeaud's victory in the Red Bull X-Fighters' maiden visit to Germany means the Swiss rider now looks unbeatable in the overall series, reinforcing his likely role as successor to retired American whiz kid Travis Pastrana who won in 2007.




With Japan's Taka Higashino sidelined after a brutal crash in training on Thursday, the "dirty dozen" were reduced to just 11 riders by Satruday who battled to impress the panel of five judges on a course built 75 metres down in the bottom of the Oetelshofen Quarry. German Touring Car Masters driver Martin Tomczyk added a dab of four-wheeled expertise to the proceedings with his appearance in an off-road Race Touareg.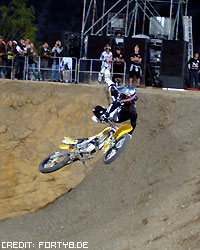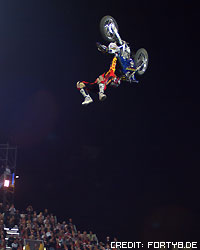 Tonight's results put Lusk, Maddison and Torres in close competition in the overall classification behind Rebeaud. A nagging thumb injury forced the other possible contender, America's Jeremy 'Twitch' Stenberg, to sit out the rest of the season.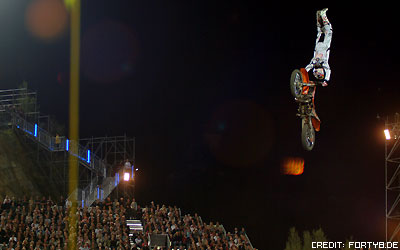 After visiting Mexico City, Rio de Janeiro, Forth Worth in Texas, Madrid and now Wuppertal, the Red Bull X-Figthers' next stop is scheduled for September 6th at the Stadion X-lecia in Warsaw, Poland.

Final Result of Red Bull X-Fighters Wuppertal:

1 Mat Rebeaud/CH 100 Punkte
2 Jeremy Lusk/USA 80 Punkte
3 Dany Torres/E 65 Punkte
4 Robbie Maddison/AUS 55 Punkte
5 Petr Pilat/CZE 45 Punkte
6 Frederick Johansson/S 35 Punkte
7 Ronnie Renner/USA 30 Punkte
8 Busty Wolter/D 25 Punkte
9 Dustin Miller/USA 20 Punkte
10 Fabian Bauersachs/D 15 Punkte
11 Nick de Wit/RSA 10 Punkte
CLICK ON THE FOLLOWING LINK TO VISIT THE WEBSITE AND BE UP TO DATE WITH THE RED BULL X-FIGHTERS 2008: http://www.redbullxfighters.com