RED BULL X-FIGHTERS 2008
RED BULL X-FIGHTERS in Warsaw / Poland

2008 Champ Rebeaud Celebrates with 35,000 Fans 05.09.2008
Spain's Dany Torres won the final stop of the Red Bull X-Fighters Series 2008 on Saturday in Warsaw's Stadion X-Lecia, grabbing the win ahead of Robbie Maddision (AUS). Just one day before the historic sports stadium is razed to the ground, Switzerland's Mat Rebeaud celebrated the overall title with a third place, having already secured the series win before the season finale in the Polish capital.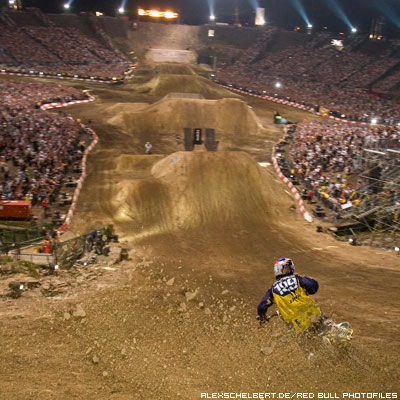 The 26-year-old secured victory in the Red Bull X-Fighters 2008 overall standings in impressive fashion, winning the events in Mexico City (MEX), Fort Worth/Texas (USA), Madrid (ESP) and Wuppertal (GER). America's Jeremy Stenberg claimed victory ahead of Rebeaud in Rio de Janeiro (BRA).

The win means that Spaniard Torres leapfrogs Jeremy Lusk (USA) in the overall standings, with the American even falling behind Robbie Maddison to finish fourth after crashing twice in the Polish capital.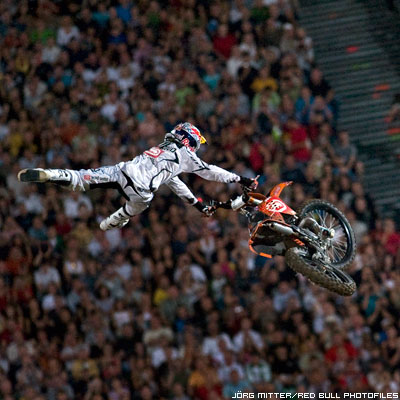 The world-exclusive Super Session saw four teams of three riders fight it out in the disciplines Step Up, Speed&Style, Quarterpipe Jam and Classic FMX. Superstar Travis Pastrana made his for-one-night-only comeback at the Session, finishing in first place with "Team Renner" (Ronnie Renner/USA, Travis Pastrana/USA, Thomas Pages/FRA, just ahead of "Team Rebeaud" (Mat Rebeaud/CH, Jeremy Lusk/injured/USA, Mike Mason/USA), "Team Maddison" (Robbie Maddison/AUS, Myles Richmond/USA, Gilles Dejong/BEL) and "Team Ogłaza" (Bartek Oglaza/POL, Libor Podmol/CZE, Dany Torres/ESP).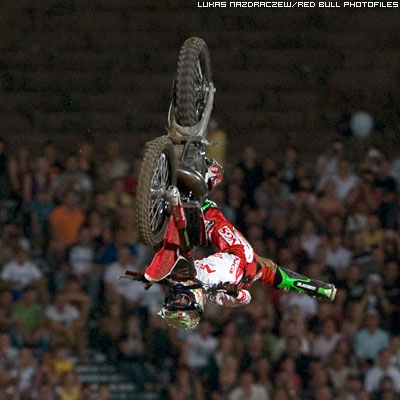 "Now they can tear down the stadium. That was the ultimate goodbye – there's nothing that could beat that for a final farewell," agreed Mat Rebeaud and Travis Pastrana. The Stadion X-Lecia is to make way for a multi-purpose arena in preparation for the European Football Championships in 2012.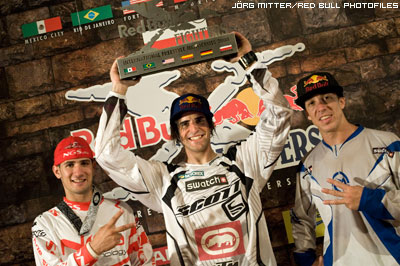 Final Result Red Bull X-Fighters Warsaw:
1. Dany Torres (ESP)
2. Robbie Maddison (AUS)
3. Mat Rebeaud (SUI)
4. Jeremy Lusk (USA)
Final Overall Standings Red Bull X-Fighters Series 2008:
1. Mat Rebeaud (SUI/465 points)
2. Dany Torres (ESP/345 points)
3. Robbie Maddison (AUS/320 points)
4. Jeremy Lusk (USA/320 points)