NIGHT of the JUMPS Beograd
Story and pics by Oliver Franke
Remi Bizouard wins FMX WC Battle in Beograd and equalizes with Villa
Beograd, 27th September 2008: After the summerbreak of the IFMXF it's now time for Freestyle Motocross again. For the 6th contest of the FIM Freestyle MX World Championships the FMX riders came to the Arena Beograd for the Suzuki NIGHT of the JUMPs. Remi Bizouard won in the heat of Serbia und got the 20 World Championships points, which let him equalize with injured André Villa. Both now have 92 points in the Freestyle Motocross World Championship series. Czech Libor Podmol did a perfect Cliffhanger Flip and a massive Underflip, but he only came on 2nd position. Third went to Swedish Fredrik Johansson, who really enjoyed the big track on his 4-Stroke-Suzuki.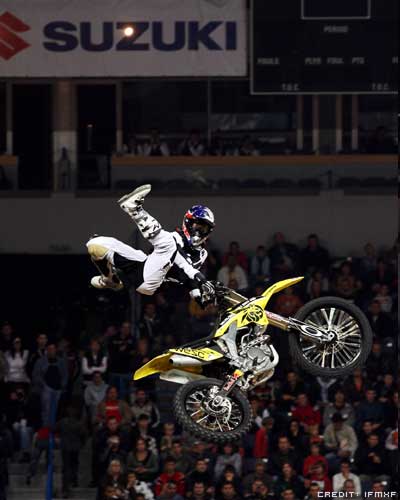 Within the summerbreak most of the riders worked on new extreme tricks. So the crowd in Serbia saw already in the qualification spectacular jumps. Remi Bizouard premiered with a Switchblade Flip on the IFMXF track. Both US-Boys Jack Rowe and Brody Wilson did a Tsunami Flip. Gilles Dejong made an unbelievable 1-Foot Lazyboy and Spanish Jose Miralles Garcia brought a massive show for the crowd. But he missed two tricks, so he could see the final from the audience. Finally Remi Bizouard, Libor Podmol, Fredrik Johansson, Brody Wilson, Jack Rowe und Brice Izzo made it into the final.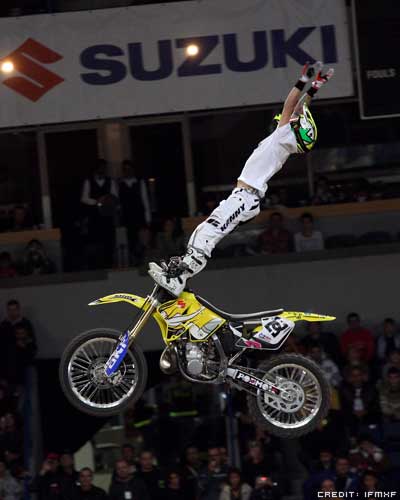 The next massive trick premiere came in the Whip contest. Jose Miralles Garcia did a Heelclicker Whip and won the contest. In the Step-up the Spanish guy won together with Bartosz Oglaza. Both made it over 9,50 meters.
In the final every rider tried to put the pressure even higher. Brice Izzo wanted to came onto the podium, but he had two Deadsailors and so his Shaolin Flip was only for the audience. Brody Wilson started his run with a massive Red Bull Quarterpipe jump. His run was nearly pefect, but in the Double up he had to thraw away his bike within the flip rotation and so he ended up 5th.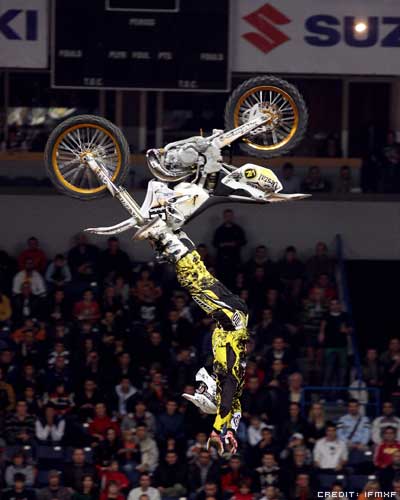 Jack Rowe came on 4th position. Libor Podmol beat Fredrik Johansson and made it on 2nd position. But today he could not reach Remi Bizouard. He did Switchblade, Cliffhanger and Ruler flips and put the 20 World Championship points on his account. Now he leads together with André Villa.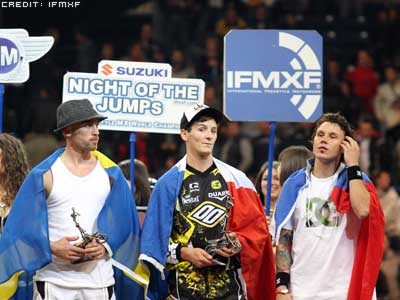 Next points of the FIM Freestyle MX World Championships will be given on 11th October at the Suzuki NIGHT of the JUMPs in Cologne.

FACTS Suzuki NIGHT of the JUMPs –
FIM Freestyle MX World Championships – Round 6
Beograd, 27th September 2008

Results Suzuki NIGHT of the JUMPs – Final
1. Remi Bizouard FRA FFM Yamaha 335 Points
2. Libor Podmol CZE ACCR Suzuki 318 Points
3. Fredrik Johansson SWE SVEMO Suzuki 302 Points
4. Jack Rowe USA DMSB Suzuki 288 Points
5. Brody Wilson USA AMA Honda 270 Points
6. Brice Izzo FRA FFM Yamaha 269 Points

Results Qualifikation
1. Remi Bizouard FRA FFM Yamaha 272 Points
2. Libor Podmol CZE ACCR Suzuki 269 Points
3. Fredrik Johansson SWE SVEMO Suzuki 255 Points
4. Brody Wilson USA AMA Honda 254 Points
5. Brice Izzo FRA FFM Yamaha 248 Points
6. Jack Rowe USA DMSB Suzuki 228 Points
7. Fabian Bauersachs GER DMSB KTM 226 Points
8. Massimo Bianconcini ITA ACCR Yamaha 222 Points
9. Jose Miralles Garcia ESP RFME KTM 219 Points
10. Lukas Weis GER DMSB Suzuki 209 Points
11. Gilles Dejong BEL FMB KTM 180 Points
12. Bartosz Oglaza POL PZM Suzuki 170 Points

Results Highest Air Contest
1. Bartosz Oglaza POL 9,50 Meter
1. Jose Miralles Garcia ESP 9,50 Meter
3. Libor Podmol CZE 7,50 Meter
4. Brice Izzo FRA 7,00 Meter

Results Whip Contest
1. Jose Miralles Garcia ESP RFME KTM
2. Massimo Bianconcini ITA ACCR Yamaha
3. Remi Bizouard FRA FFM Yamaha