Suzuki NIGHT of the JUMPS Cologne
Story and pics by Oliver Franke
Remi Bizouard wins backflip battle in Cologne and gets on top of the World Championship

Cologne, 11th October 2008: Remi Bizouard wins with an amazing final run the backflip battle at the Suzuki NIGHT of the JUMPs Cologne and set himself on top of the FIM Freestyle MX World Championship. Second went to Brice Izzo ahead of IFMXF shootingstar Jose Miralles from Spain.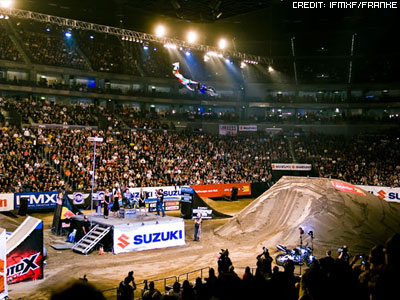 For this years only FIM Freestyle MX World Championship contest on german ground the riders were really nervoes. The qualification brought some into trouble. German Freddy Peters and Steve Mini from Australia crashed in there runs. Fredrik Johansson got problems on his 4-Stroke-Suzuki and did not make it amongst the 6 best riders. From the 3 other german riders no one made it into the final. Fabian Bauersachs was close and missed it only by 3 points. So Jack Rowe (USA), Libor Podmol (CZE), Massimo Bianconcini (ITA), Jose Miralles (ESP) and both French riders Brice Izzo and Remi Bizourd got into the final.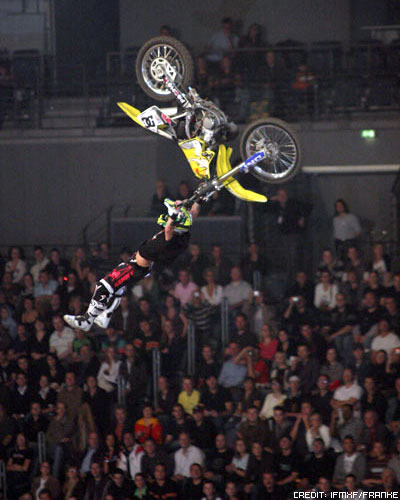 The final of the 7th contest of the FIM Freestyle MX World Championship went into a backflip battle. Massimo Bianconcini did a Whip Flip and a Superman Indy Flip. Brice Izzo showed a Tsunami and a Shaolin Flip. Libor Podmol did his Cliffhanger Flip and a Tsunami Backflip in the Double-Up, but at the landing he crashed. Jose Miralles made a kind of an Airwalk Flip and a Suicide Backflip to No-Hand-Landing. Remi Bizouard made his Ruler Flip in the Double Up and bevor he did an amazing Switchblade to Switchblade Backflip. Only Jack Rowe had problems and had to break up his final run.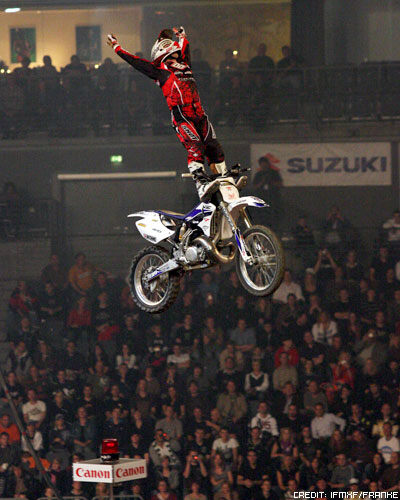 The 9.500 people in the Lanxess arena pushed the riders to their limits. Audience beloved Jose Miralles made it onto the podium at his 2nd IFMXF contest. But finally Remi Bizouard won and got 20 points for the FMX World Championship. Now he leads the series with 20 points ahead oj still injured André Villa. Third is US-Boy Jack Rowe.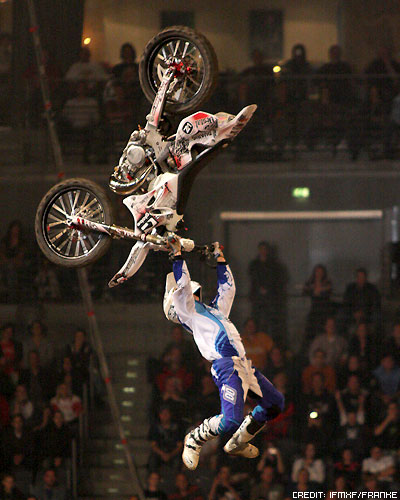 Next points of the FIM Freestyle MX World Championships will be given on 25th and 26th of October at the Suzuki NIGHT of the JUMPs in Riga.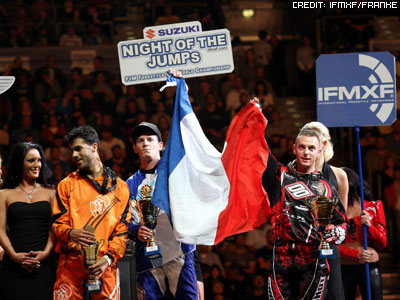 You want to see some motion? Here you can watch Video Clips of the three finalists: http://www.ifmxf.com/gallerys.jsp?id=97


FACTS Suzuki NIGHT of the JUMPs –
FIM Freestyle MX World Championships – Round 7
Cologne, 11th Oktober 2008

Results Suzuki NIGHT of the JUMPs – Final
1. Remi Bizouard FRA FFM Yamaha 307 Points
2. Brice Izzo FRA FFM Yamaha 294 Points
3. Jose Miralles Garcia ESP RFME KTM 273 Points
4. Libor Podmol CZE ACCR Suzuki 268 Points
5. Massimo Bianconcini ITA ACCR Yamaha 261 Points
6. Jack Rowe USA DMSB Suzuki 142 Points

Results Qualification
1. Remi Bizouard FRA FFM Yamaha 260 Points
2. Brice Izzo FRA FFM Yamaha 251 Points
3. Jose Miralles Garcia ESP RFME KTM 250 Points
4. Libor Podmol CZE ACCR Suzuki 247 Points
5. Massimo Bianconcini ITA ACCR Yamaha 231 Points
6. Jack Rowe USA DMSB Suzuki 227 Points
7. Fabian Bauersachs GER DMSB KTM 224 Points
8. Lukas Weis GER DMSB Suzuki 199 Points
9. Hannes Ackermann GER DMSB KTM 180 Points
10. Fredrik Johansson SWE SVEMO Suzuki 160 Points
11. Freddy Peters GER DMSB Suzuki 36 Points
12. Steve Mini AUS DMSB Yamaha 32 Points

Results Highest Air Contest
1. Libor Podmol CZE 7,00 Meter
2. Jose Miralles Garcia ESP 6,50 Meter
3. Hannes Ackermann GER 6,00 Meter

Results Whip Contest
1. Massimo Bianconcini ITA ACCR Yamaha
2. Jose Miralles Garcia ESP RFME KTM
3. Lukas Weis GER DMSB Suzuki

FIM Freestyle MX World Championships
Ranking (after 7th contest)
1. Remi Bizouard FRA FFM Yamaha 112 Points
2. André Villa NOR RFME Suzuki 92 Points
3. Jack Rowe USA DMSB Suzuki 77 Points
4. Fredrik Johansson SWE SVEMO Suzuki 76 Points
5. Romain Izzo FRA FFM Yamaha 70 Points
6. Libor Podmol CZE ACCR Suzuki 68 Points
7. Fabian Bauersachs GER DMSB KTM 66 Points
8. Greg Hartman USA DMSB Yamaha 50 Points
9. Lukas Weis GER DMSB Suzuki 47 Points
10. Mat Rebeaud SUI FMS KTM 38 Points
11. Bartosz Oglaza POL PZM Suzuki 35 Points
12. Brice Izzo FRAU FFM Yamaha 28 Points
13. Jose Miralles Garcia ESP RFME KTM 23 Points
14. Massimo Bianconcini ITA ACCR Yamaha 20 Points
15. Oystein Kjorstad NOR NMF KTM 15 Points
16. Vivian Gantner SUI FMS Suzuki 13 Points
17. Gilles Dejong BEL FMB KTM 12 Points
18. Brody Wilson USA AMA Hondo 12 Points
19. Mario Gut SUI FMS Suzuki 10 Points
20. Martin Schenk AUT OSK Yamaha 9 Points