AST DEW TOUR 2008
PlayStation Pro in Orlando
AST Dew Tour Pressrelease
Things are looking up for Adam Jones. He was the only rider to break up Nate Adams' reign of terror on the 2007 AST Dew Tour, and now he's on a streak of his own, winning two out of three events on this year's tour and securing the Dew Cup today with his win at the PlayStation Pro® in Orlando.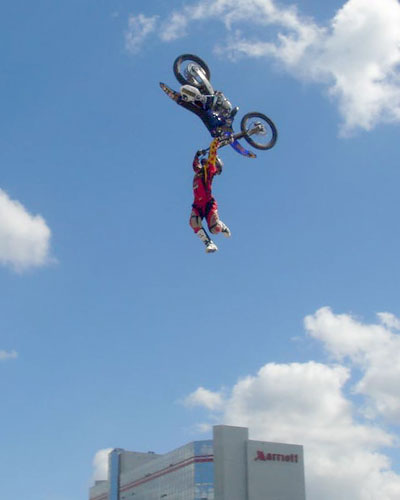 "This is right up there," says Jones. "I won a very big, very prestigious event today, and also won the championship at the same time. I tried to tell myself I didn't feel any pressure, but I felt a fair bit of pressure. I didn't sleep at all last night, just tossing and turning worrying about this. I'm glad it's over. I'm going to sleep like a baby tonight."

| | |
| --- | --- |
| | Jones came into Orlando as the Dew Cup points leader in the overall standings, after winning the Toyota Challenge last month in Salt Lake City. Despite windy conditions for the PlayStation Pro FMX Finals, Jones held the lead after Run 1, sticking signature tricks like the stripper flip, turntable flip, and kiss of death flip, and posting a score of 93.67 that would hold up for the win. After Run 1, it was Jones, PlayStation Pro FMX Prelims winner Jeremy Lusk, and Beau Bamburg in the top three spots. Dew Tour FMX competition is a best-of-two runs format; Lusk improved his score from 91.80 to 92.57 in Run 2, but it wasn't enough to stave off Robbie "Maddo" Maddison, who bumped up from 90.27 to 93.10 for 2nd place. |
It's been a wild year for FMX competition, with lots of podium surprises and many unfortunate injuries, but Jones says he's learned to stay positive and focus on his own riding.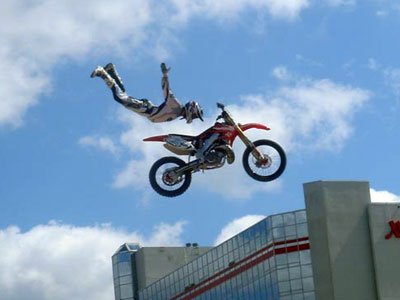 "I'm feeling really good. I've kind of changed my whole outlook on life," says Jones. "I used to be pretty negative and pretty down on everything, and now when there's bad conditions or when something's not exactly the way I want it I just try and make the best of it. I think that's helped me a lot. I know the minute I get negative that's not going to do anything but hurt my run."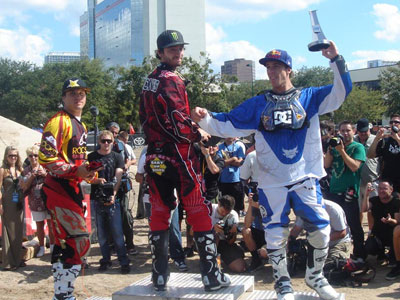 Jones finishes out the 2008 AST Dew Tour with 265 points to take the Dew Cup championship, followed by Robbie Maddison and Jeremy Lusk. Beau Bamburg, Nate Adams, Mike Mason, Blake "Bilko" Williams, Ronnie Faisst, Mathieu Rebeaud, and Wiley Fullmer round out the top 10.


Results AST Dew Tour | Orlando

Final Results FMX
1. Adam Jones 93.67
2. Robbie Maddison 93.1
3. Jeremy Lusk 92.57
4. Beau Bamburg 91.9
5. Jeff Kargola 90.23
6. Mike Mason 88.03
7. Myles Richmond 86.67
8. Wiley Fullmer 86.1
9. Derek Garland 85.1
10.Ronnie Faisst 84.33




For more information about Crusty go towww.crustydemonseurope.com


Support us: Like and Share it!

Video of the month

Facebook /FORTY8Mag

Partner