FIM Freestyle MX World Championships
NIGHT of the JUMPs
Fortalesa, 13th December 2008: The energy, heat and chaos of Brazil delivered a fitting end to the Suzuki NIGHT of the JUMPs / FIM Freestyle MX World Championship series. Ten rounds of fierce competition built to a climax in a blisteringly hot Fortalesa.
It started with drama on Wednesday when American riders Brody Wilson and Jack Rowe had their trip to South America end early, due to Visa complications. Brazilian star Fred Kyrillos was flown in from Sao Paulo at the last minute and thrust onto the global stage with no preparation or warning as a last second replacement, using Brody's bike. Next, Fred Johansson's luggage was lost en route from Sweden on Thursday, containing all of his kit and bike parts. It never arrived in time and he had to make alternative plans. Using Gilles de Jong's boots, Massimo Bianconcini's Oakley goggles and Remi Bizouard' helmet and riding kit, Fred managed a less than ideal 5 minute practice session, but bravely rode through the event, securing enough points for 3rd place in the championship total rankings.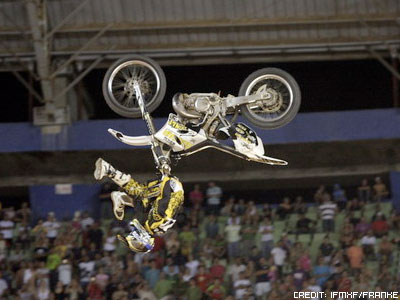 When the contest finally kicked off tonight, the passionate 35.000 Brazillians were in full song and pushed the riders over the edge. Local boys Kyrillos, Marcello Simoes and "Tata" Neto stepped up to the mark and impressed with a high level of riding.
The biggest surprise of the weekend was Brice Izzo, who managed to upstage newly crowned World Champ, Remi Bizouard, and win both Qualifying and the Final with an awe inspiring display.


The riders had the juicy prospect of a bigger and more technical course in the large Castelao football stadium. Izzo used his superior racing-groomed skills to outclass the field. Libor Podmol was once again the crowd favourite, narrowly losing out on second to Bizouard with his heart-stopping "edge of your seat" riding style.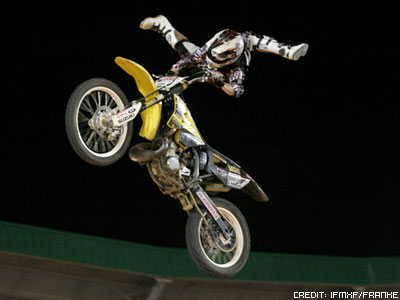 Step-up had Lukas Weiss and Gilles de Jong tie for victory with a new IFMXF record on dirt of 10,10m, with local hero "Tata" Neto third. The whip contest had Lukas Weiss edge out Max Bianconcini and de Jong with his trademark upside down whips.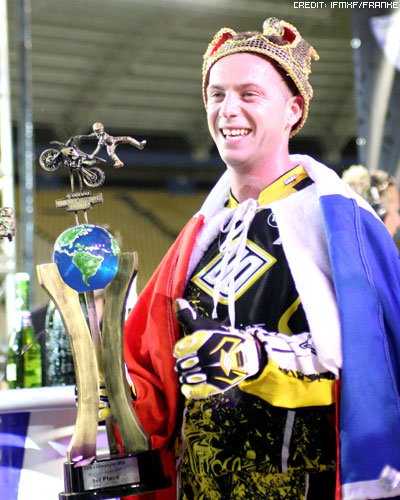 The riders, crew and staff will now take a welcome break before preparations begin for the 2009 "Night of the Jumps" series, which kicks off in Berlin on 21&22 March 2009 in the brand new O2 Arena.
A huge round of thanks must go to the entire IFMXF crew, the riders, the local organisers t´ai eventos, Red Bull and the Ceara state government for hosting a great event in Brazil.
For more info, news, pics and videos, check out www.ifmxf.com
Happy holidays, be safe and seeya in 2009!


FACTS Suzuki NIGHT of the JUMPs –
FIM Freestyle MX World Championships – Round 10
Fortalesa, 13th December 2008

Final
1. Brice Izzo FRA FFM Yamaha 340 Points
2. Remi Bizouard FRA FFM Yamaha 330 Points
3. Libor Podmol CZE ACCR Suzuki 297 Points
4. Massimo Bianconcini ITA ACCR Yamaha 267 Points
5. Gilles Dejong BEL FMB KTM 218 Points
6. Lukas Weis GER DMSB Suzuki 204 Points

Results Qualification
1. Brice Izzo FRA FFM Yamaha 275 Points
2. Remi Bizouard FRA FFM Yamaha 270 Points
3. Gilles Dejong BEL FMB KTM 243 Points
4. Libor Podmol CZE ACCR Suzuki 243 Points
5. Massimo Bianconcini ITA ACCR Yamaha 235 Points
6. Lukas Weis GER DMSB Suzuki 232 Points
7. Fabian Bauersachs GER DMSB KTM 228 Points
8. Marcelo Simoes BRA CBM Honda 200 Points
9. Fredrik Johansson SWE SVEMO Suzuki 183 Points
10. Fred Kyrillos BRA CBM Honda 167 Points
11. Octavio Neto BRA CBM Yamaha 132 Points

Results Highest Air Contest
1. Lukas Weis GER 10,10 Meter
1. Gilles Dejong BEL 10,10 Meter
3. Octavio Neto BRA

Results Whip Contest
1. Lukas Weis GER DMSB Suzuki
2. Massimo Bianconcini ITA ACCR Yamaha
3. Gilles Dejong BEL FMB KTM