Masters of Dirt 2009 World Tour blasts into Belfast!
Monday, February 16, 2009

Masters of Dirt 2009 World Tour blasts into Belfast!


Belfast might have a history highlighted by past Bombings and Terror, but it was a newer, better kind of explosions and heart stopping terror that unleashed itself on the Belfast citizens on Saturday night.

Masters of Dirt made its Belfast debut to a sold-out crowd of festive FMX fans.The Fuel Girls ignited the chaos with flame-throwers, balls of fire and smoking tyres. But it was the top class FMX that everyone came for. 8 gods of Freestyle descended upon Belfast: Bizouard, Pages, Bianconcini, Wolter, Squibb, Izzo, Torronterras and Lacondeguy – delivered a spine chilling and electrifying display of some of the finest aerial madness known to man.
Check out E.T.'s great beatbox action here!

The brand new M.O.D. choreography turned the heat up and worked better than anyone could have hoped.
For Lacondeguy, already a World Class Mountain Bike Dirt pro, this would be his Pro FMX debut. The little Catalunya native rode side by side with his idol, Spanish pioneer Edgar "ET" Torronterras and 6 other European FMX rockers. The Masters of Dirt sponsored MTB pro said that it was the most fun event he had ever been to!
"The machine" Vince Massardier from Marseille, hit a gigantic frontflip on his BMX onto the huge M.O.D. mobile landing ramp, which must surely be the biggest frontflip ever. For real!

It was sicker than a Belfast barfly on the morning after St.Patricks day! Atta baby Machine! And Vince says he has bigger stuff to mix in with Andreu, Patrick and the rest of the BMX and MTB crew at the next round in Vienna this weekend. We can't wait!

Mexican mess, Travis Hart, was his usual crazy self and did some perfect flips, hart attacks and no hand flips on his pitbike, before over carving a 360, completely off the side of the landing!

Whip contest was an elimination jam, voted by the crowd and it was ET who threw his YZ250 upside down and inside out to take the win from Pages and Bianco. The Synchro session then got the roaring Masters of Dirt show into top gear, as riders did the hardest possible FMX tricks, side by side and wheel to wheel. Finishing with a final 5minute jam that shook the last few standing Belfast FMX freaks to their knees.
Next week, Ronnie Renner, Scott Murray, Jon Guetter and Justin Hoyer are joining the chaos in Vienna, to take the Masters of Dirt 2009 World Tour to the next level.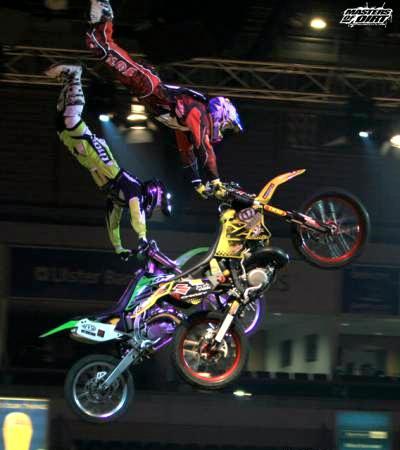 The after party was the usual carnage, giving the whole crew a few days to recover before starting all over again in the Stadthalle next Saturday and Sunday.
Masters of WHAT!? Masters of Dirt!
See you in Vienna!

For awesome pics & videos or to book tickets to your next M.O.D. event, log on to www.mastersofdirt.com