IFMXF NOTJ Hamburg | GERMANY
Night of the Jumps round 13, Hamburg Germany
The Colourline Arena was rocked by a mixture of showmanship, determination and pure talent this Saturday.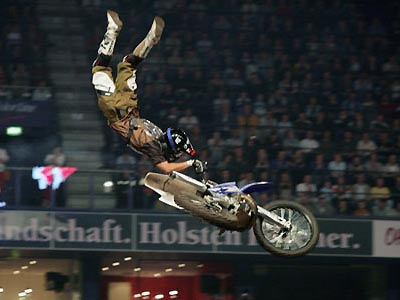 André Villa definitely with the best style factor - killer CrackNac
The final saw Mat Rebaud (Sui) tying on 330 points with Andre Villa (Nor). His higher placing in the qualifying round would edge him ahead and hand him the win through the tie-breaker system.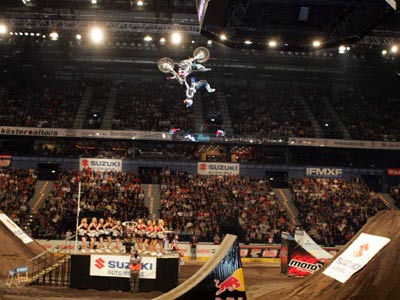 Mat Rebeaud backflipping into the 1st position - NacNac Flip
Third was Oystein Kjorstad (Nor) who continues to improve his form with every event. Fourth was Derek Burlew (USA), who despite not having a backflip in his routine in a field of 11 backflippers, still ran with the front runners with massive tricks and landing combinations. Fifth was crowd favourite Ronnie Renner (USA), who also captured the win in both the Highest Air and Team Whip contest with team mate Burlew. Rounding out the final was English madman Kris Brock.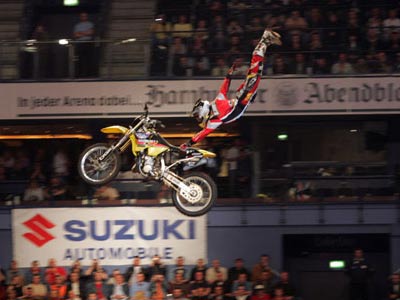 Oystein Kjorstadt with an extended One-hand-Hartattack
The exploding riding level left established riders like Busty Wolter (Ger), Nick Franklin (NZ) and Nick de Wit (RSA) shut out of the final six despite high level rides.
Second in the Highest Air was Jimbo Verburgh (Bel), third was Rebaud, fourth was Burlew. The Team Whip contest saw Jimbo and Brock finishing second to the American duo. Third was the team of Wolter and Franklin. IFMXF number 1 Ailo Gaup had a shockingly bad qualifying run, goon riding his way to last position.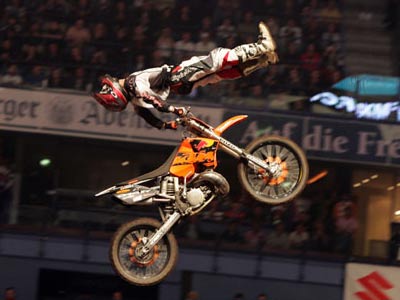 Ronnie Renner with a sweet Deadbody - 5th place in the final
Earlier in the day, Fredrik Johanson (Swe) and Martin Koren (Czech) claimed the final two qualifying positions in the wildcard pre-qualifier. Fred Berggren (Swe) narrowly losing out on qualification, despite having some huge tricks in his repertoire.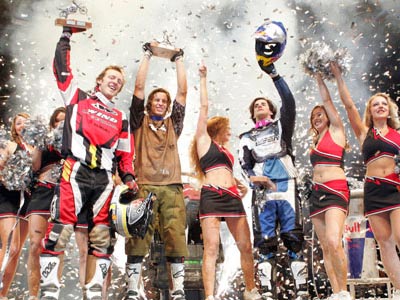 The final three | Kjorstad 3th - Villa 2nd - Rebeaud 1st
The IFMXF Night of the Jumps series moves to Nurenburg for the penultimate round next Saturday. The series final takes place in Cologne on Saturday 4th June. Check out www.ifmxf.com for event info, news, results, pictures and the latest video clips.
NIGHT of the JUMPs Hamburg 14.05.2005

Results Qualifikation
1. Mat Rebeaud SUI 266 Points
2. Andre Villa NOR 259 Points
3. Derek Burlew USA 229 Points
4. Ronnie Renner USA 226 Points
5. Oystein Kjorstad NOR 226 Points
6. Kris Brock GBR 222 Points
7. Sebastian Wolter GER 215 Points
8. Nick Franklin NZL 212 Points
9. Nick de Wit RSA 201 Points
10. Fredrik Johansson SWE 195 Points
11. Jimmy Verburgh BEL 185 Points
12. Martin Koren CZE 179 Points
13. Fabian Bauersachs GER 169 Points
14. Libor Podmol CZE 92 Points
15. Ailo Gaup NOR 23 Points



Results Whip Contest


1. Team 1 (Renner, Burlew)
2. Team 2 (Brock, Franklin)
3. Team 3 (Wolter, Verburgh)

Results Highest Air
1. Ronnie Renner 7,40 Meter
2. Jimmy Verburgh 7,20 Meter
3. Mat Rebeaud 7,00 Meter
4. Derek Burlew 6,00 Meter



Results Final


1. Mat Rebeaud SUI 330 Points
2. Andre Villa NOR 330 Points
3. Oystein Kjorstad NOW 276 Points
4. Derek Burlew USA 271 Points
5. Ronnie Renner USA 266 Points
6. Kris Brock GBR 218 Points