The compound FMX Jam
Daytona, Johannesburg, South Africa
A Review by Darryl Burmeister | Pics by Jolene Swart
The boys out at The Compound recently held an open day at their freestyle park, after all the hard work put in to build this class facility. The park boasts two 75ft ramps, a moto section, other ramps at multiple shorter gaps for the amateurs, two dirt step ups, a super-kicker and a pile of tables going around the outside of the park which are great for keeping the spectators enthused.





The weather seemed threatening from early in the morning, but spirits could not be better, with almost all the local amateur and pros coming out the woodwork and the majority of industry boys showing up to have a look around atwhat has happened in the off-season. The format was great and allowed new faces access to the park and opportunity to grow and test their skills. As more and more riders started to show up, the vibe was great and the riding stepped up . A young talent, Scott Billett on his RM85, tore the park up all day, even throughout two rainy sessions, the kid was relentless. As a dozen or so amateurs circled the park like vultures, a few riders ended up with a face full of dirt, but it was all fun and no one got hurt.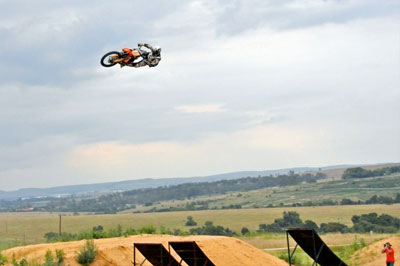 Local Boys Dallan Goldman and Nick Brits went out and shortly thereafter were joined by Colin Stanton, who excelled at the recent ProX National contest held in Cape Town, achieving a very credible third spot. Goldman and Stanton were the standout riders, offering a consistent variety of grabs, whips, strippers and lazy boys. Stanton showed some huge rock solid and double hart combos, all with huge extension, as the clouds darkened and opened on the course.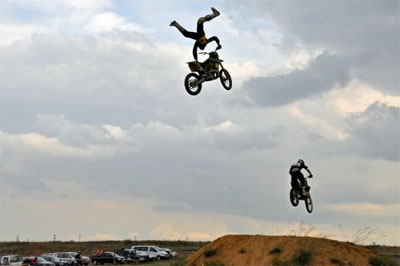 During the downpour, Nick Brits managed to severely crush his ankle after his new YZ bogged on a step up. Pro riders Nick de Wit, Stewart Couper and Brendan Potter then arrived from a show and managed to get out onto the wet course and find some dirt transfers and some different lines to keep themselves going. All in all, there was a lot to watch and some pretty exciting stuff from new and experienced faces on the South African FMX scene. More Open Days are planned at the compound, as riders prepare for the next round of the FMX nationals to be held over Easter in Johannesburg, watch this space.