Masters of Dirt rocked Linz
Masters of Dirt rocked Linz on Saturday 21st March
By Georg Fechter

After a fiery by the Fuel Girls and the pyro technic world masters from Jost Pyro, Masters of Dirt kicked off the worlds best freestyle show. Back in Linz for the second time, with some special tricks up their sleeves.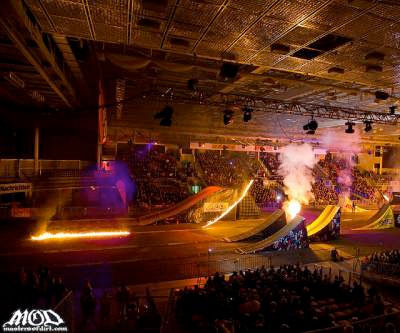 The crowd judged qualifying, with the following riders going head to head, to prove their skills to the crowd:
Andreu Lacondeguy – Gerhard Mayr
Alastair Sayer – Busty Wolter
Justin Hoyer – Jim Mc Neil
Charles Pages – Romain Izzo
The 4 winning riders qualified for the finals:
Mayr
Sayer
Mc Neil
Pages
The whip contest was dominated by Pages, Andreu had such big whips this weekend without even having done a single one in Vienna. We could not believe it and are sure in a few months he will be on top of his game!
After the whip contest the riders had a 5 minute FMX jam session, where the crowd went really crazy.
Almost bummed that the first part was over the crowd went to refill their beers and buy some MOD gear before the second part of the World's best freestyle show continued.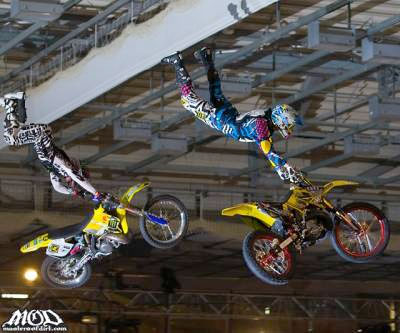 The second half started with a Minibike show by Travis Hart, Tomas Barta and Radek Bilek. The crowd went crazy for our midgets on the babybikes, doing backflip trains, Superman flips, heelclicker flips and so on. Radek even did a cordova flip in practice but unfortunately during the Show, Travis had a massive crash so we had to cancel the rest of the minibike show.

(Travis Hart Injury update:
Travis Hart decided to ride the show in a BMX helmet and we all had this weird and stupid feeling about it, but Travis wouldn't listen and insisted on going out for the show in his "pro tec" BMX helmet. He had a hard crash on his 360 attempt, landing face first. He was knocked out and the medics said it was a really close call, as his brain hit the skull so hard that it was swelling up and his throat was swelling closed, so they intubated him and then put him in an induced coma. After a few hours in intesive care he was out of danger and the doctors couldn't believe how strong he actually is. He "only" broke his cheek bone and knocked some teeth out. He's in good condition now and just waiting to get surgery before he goes back home. Thank God and to also to the great medical group on the track and in the intesive care, you guys saved his life! Travis just got out of intesive care Tuesday and will be fine in no time)


| | |
| --- | --- |
| | Then it was time was for our BMX warriors, Vincent "the machine" Massardier and Patrick "patoche" Guimez got a tow-in from Busty and Charles in order to get enough speed to clear the 10meter minibike gaps. The crowd couldnt believe it when they saw tailwhips, turndowns and no handers on this big gap with such small bikes. Of course Vince and Patrick wanted to show them more than just a few standard tricks, so Patrick did his first flip whip on the big set-up and then Vincent busted out his massive signature frontflip! Next, it was time for the Fuel Girls to please the crowd with their show. After a massive fire performance, Helen went roaring around with her buggy, launching away t-shirts to the crowd, who ended it with a mexican wave. |
The Synchro and Backflip progression part of the show was off the hook and the crowd could not believe it. Mayr – Lacondeguy / Sayer – Busty / Hoyer – Izzo and last but no least, McNeil and Pages did a massive show with the most crazy tricks on around. Tricks such as massive whip flips, superman flips, Superman seatgrab flips, Cordova flips, Lazyboy flips, Tsunami flips and many more....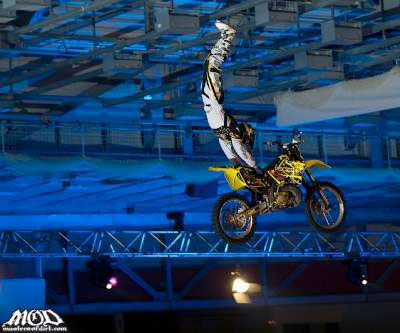 Then it was time for the final session where each rider had 6 jumps to prove his skills to the crowd. Charles Pages was crowned the Master of Dirt Linz 2009 ahead of Jim Mc Neil in second. It was such a close call but the crowd had decided and Pages was their winner!
But it wasnt over after finals so, we made history with the first ever Sled Backflip in Linz. When Justin Hoyer Backflipped his 250kg Sled, the crowd went completely crazy.
Thank God that this event went so well and lets be happy that the crash Travis had didn't turn out worse.


For awesome pics & videos or to book tickets to your next M.O.D. event, log on to www.mastersofdirt.com